What Lukashenko's regime persecutes Belarusian women for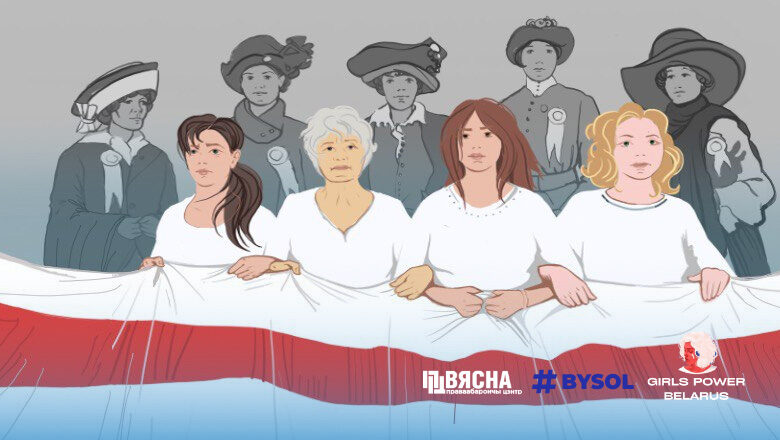 On International Women's Day, the Viasna Human Rights Center tells how and why Lukashenko's regime persecutes Belarusian women.
In 2020, the majority of the Belarusian people voted for Sviatlana Tsikhanouskaya in the presidential election – contrary to the dictator's claims that even the country's constitution was "not written for a woman". The women's trio of Sviatlana Tsikhanouskaya, Maria Kalesnikava, and Veronika Tsepkalo became a symbol of change. Women's marches made it possible for the protests to continue after the violent crackdown on peaceful demonstrations in the first days after the rigged presidential election. To this day, courageous Belarusian women continue fighting for freedom and suffering repression.
According to the Viasna Human Rights Center, as of today, 155 female political prisoners have been handed freedom restriction sentences in Belarus. Since 2020, 165 women have been sentenced to imprisonment in a penal colony, 304 – to home confinement with penal labor, and 60 – to open prison. Four women are currently under arrest, and one is sentenced to forced psychiatric treatment. The "cases" against these women are connected to their protests against the current government and the war in Ukraine. Therefore, most of them spend International Women's Day behind bars in a pre-trial detention center or serving their sentences of home confinement with penal labor, while some are on their way to a penal colony.
In most cases, Belarusian women are "tried" for participation in peaceful protests. At the moment, 70 out of 155 political prisoners are being prosecuted for participating in the 2020 protests. Belarusian women are "tried" for speaking out against the war in Ukraine – even for such things as wearing a yellow and blue ribbon in their hair or singing a song in Ukrainian. Fifteen women were convicted for commenting on the "Zeltsar case" (Andrei Zeltsar was an IT professional shot dead by KGB agents in his own apartment) on the Internet. Maryia Uspenskaya, Andrei Zeltsar's wife, was charged with complicity in the KGB officer's killing and sentenced to mandatory psychiatric treatment. Female journalists, human rights activists, and lawyers are persecuted for their professional activities. Darya Losik was sentenced to two years in a penal colony for an interview about her husband, political prisoner Ihar Losik.
On the eve of International Women's Day, BYSOL, the Viasna Human Rights Center, and Girls Power Belarus started a fundraising campaign in support of Belarusian women political prisoners: "Your solidarity and support could help to provide political prisoners with clothes, pay lawyer fees, or assist them in getting a new profession." International support is of paramount importance at a time when the regime is persecuting people who have used their Belarusian bank cards to donate to such fundraisers.