Human rights defender Marfa Rabkova sentenced to 15 years in prison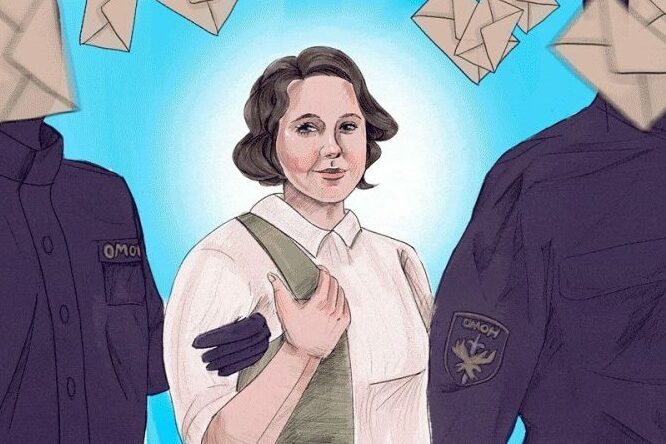 Marfa Rabkova, a political prisoner and former coordinator of the volunteer service of the Viasna Human Rights Center, was sentenced to 15 years of imprisonment and a fine of almost $9,000 USD.
The 27-year-old has been held in a pre-trial detention center for two years. During this time her father and grandmother passed away, and she began to experience severe health problems. Marfa Rabkova is the political prisoner who has received the harshest sentence in a politically motivated criminal case among women and human rights activists in Belarus. Her last word in the trial was spoken behind closed doors. Now, her colleagues, friends, and associates from the Viasna Human Rights Center read out Marfa's speech to let her voice be heard by the public. We share the most heartfelt lines of this brave young woman's speech:
We live in the era of twisted truth: the good is punished, the evil is celebrated, the freedom is possible only within one's own mind. Thoughtcrime does not only exist in dystopian fiction – it is thriving in Belarusian reality.

How much bravery does it take not to do bad things? How much courage does it take to act under human values within one's sphere of influence? What does it take to stop the chain of evil that has begun? What will we be left with when it is over? What are we going to tell our kids and grandchildren? What will you leave behind in this world?

I do not plead guilty to any of the charges. I consider them to be fully fabricated, absurd, and made up by the Main Directorate for Combating Organized Crime. Nor do I consider guilty the thousands of people who are suffering in the prisons of our country. Every person has rights, every person is an individual, every opinion must be respected, and life and freedom are the highest and absolute values. The Belarusian people deserve a decent standard of living, respect for themselves, and respect for the rights of every member of society – a state that will be working for the people and not against them.

I have seen so many kind and bright faces, I have seen so many honest people that I am sure we will make it anyway, there is no other option. Every time we help each other, every time we care, every time we offer a helping hand, express solidarity, respond to someone else's pain – every such time we bring our future, our Belarus closer. Do not despair and believe in yourselves, in your strength! The truth is on our side! Long live Belarus and Glory to Ukraine!