Sentences handed down in absentia: Sviatlana Tsikhanouskaya – 15 years in prison, Pavel Latushka – 18 years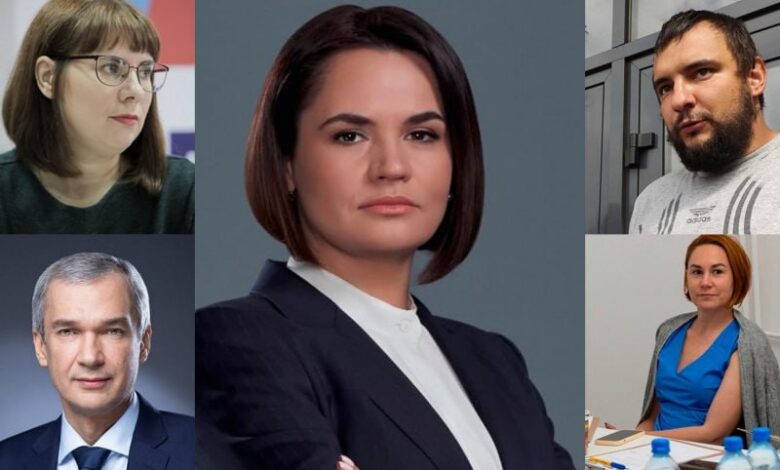 On March 6, a "court" in Minsk passed sentences in the Coordination Council case. All the defendants are currently outside Belarus. They were sentenced to 12 to 18 years of imprisonment in absentia and had their property seized.
The defendants were charged under 12 criminal articles – from "participation in mass riots" to "high treason" – and went to joint trial in absentia. Sviatlana Tsikhanouskaya and Pavel Latushka received 15 and 18 years in prison, respectively, while Volha Kavalkova, Maryia Maroz, and Siarhei Dyleuski were sentenced to 12 years in a penal colony each.
Sviatlana Tsikhanouskaya commented on the "verdict":
I don't think about what they wanted to tell me by passing this "verdict". With or without it, the democratic forces and I have done and continue to do everything possible to free our political prisoners and lead our country to democratic changes.

Today, I think about those in Belarus who are sentenced to real prison terms. Five, sixteen, or twenty-two years… And I don't want to think about regime officials, judges, prosecutors. About those who commit these crimes. Let them think about themselves because Lukashenko will not defend them in a real, independent trial that Belarusian lawyers have already collected enough evidentiary material for. He will only save himself and his clique. So is it worth setting oneself up for trouble in order to defend someone who is already doomed to fail?
Trials in absentia started in Belarus towards the end of 2022. The amendments to the Criminal Offenses Code introduced by dictator Lukashenko allow the regime to try Belarusians abroad in absentia and even sentence them to capital punishment.