Sviatlana Tsikhanouskaya "tried" in absentia in Belarus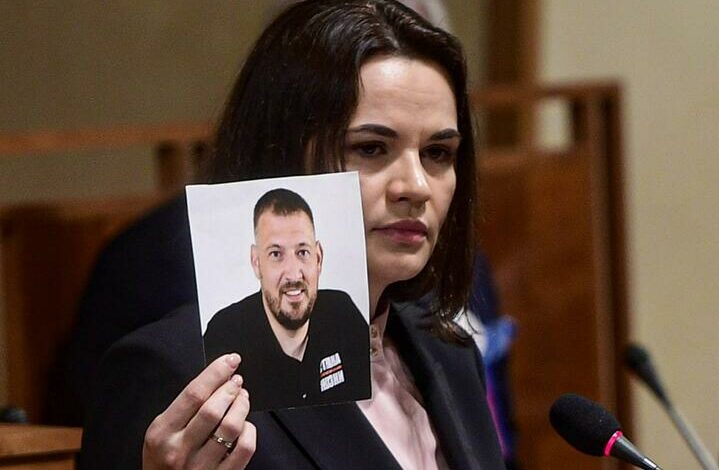 On January 17, Sviatlana Tsikhanouskaya and other defendants in the Coordination Council case Maryia Maroz, Pavel Latushka, Volha Kavalkova, and Siarhei Dyleuski went on "trial" in absentia. They are charged under 12 articles of the Criminal Offenses Code: from participation in mass riots to high treason.
None of the defendants appeared in court. All of them are not in Belarus at this time. Sviatlana Tsikhanouskaya, the president-elect of Belarus, commented on these "farce" and "rights violations" while representing the country at the economic forum in Davos:
My team and I didn't know much about the trial. I learned about the trial from the media, not from an official notice. I was denied the right to take part in the proceedings and receive copies of the charges and protocols. The appointed lawyer, despite my attempts to contact him, has not responded. I know that by doing this you are trying to intimidate and discredit me. But you only provide direct evidence of your crimes against the people of Belarus.

Three years ago, I couldn't think I would ever be prosecuted in absentia. But I also couldn't think that I would have the honor to represent our country and the future of its economy for the first time in 30 years at the World Economic Forum in Davos.
Trials in absentia started in Belarus towards the end of 2022. On December 26, three-time Olympic medalist Aliaksandra Herasimenia and sports functionary Aliaksandr Apeikin were prosecuted in absentia and sentenced to 12 years of imprisonment each. "You can even execute me by shooting in absentia!" Herasimenia commented on the verdict. Dzmitry Salauyou, forced to leave Belarus due to politically motivated criminal prosecution, is being tried in absentia in the same court case as the Nobel laureate Ales Bialiatski and human rights defenders Valiantsin Stefanovich and Uladzimir Labkovich.
In July 2022, Alexander Lukashenko signed a law amending the Criminal Offenses Code, which allows trying Belarusians abroad in absentia and even sentencing them to capital punishment. On December 13, Belarusian House of Representatives members passed amendments to the law "On Citizenship". Suppose it is adopted by the Council of the Republic and signed by Lukashenko. In that case, the regime will be able to deprive Belarusians living abroad of their citizenship in trials in absentia under "extremist" articles of the Criminal Offenses Code.
Meanwhile, political prisoner Siarhei Tsikhanouski, already serving the sentence of 18 years in prison, was charged with "committing a crime against justice" on January 16. He is accused of allegedly violating the prison regime, not responding to the prison administration's demands, being rude toward them, and provoking his inmates into conflicts. He faces a new sentence of up to two years in prison.