Nobel Prize laureate Ales Bialiatski pleads not guilty at sham trial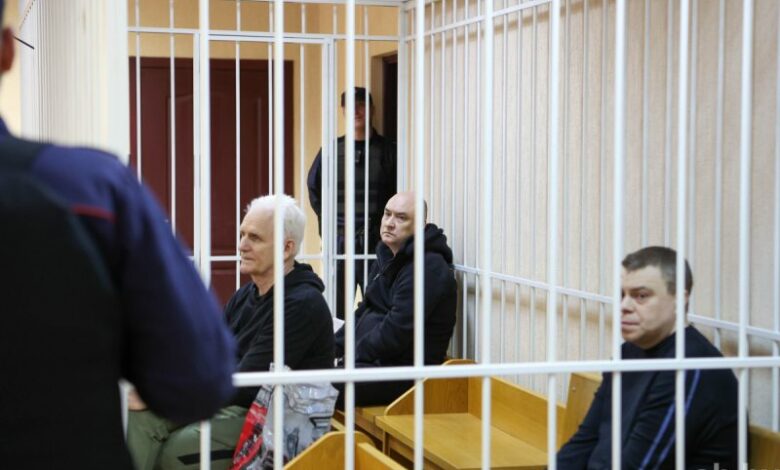 The trial against Viasna human rights defenders, including the Nobel Peace Prize laureate Ales Bialiatski, started on January 5 in Minsk. The defendants face 7 to 12 years of imprisonment. The trial is open to the public, which has become unusual for politically motivated processes in Belarus.
The Viasna Human Rights Center is covering the trial of its chairperson Ales Bialiatski, vice-chairperson Valiantsin Stefanovich, and the Human Rights Defenders for Free Elections campaign coordinator Uladzimir Labkovich. The defendants were handcuffed and held in a metal cage in the courtroom. The judge denied the defendants' petition to remove the handcuffs and a request to conduct the trial in the Belarusian language. Nevertheless, the defendants continued to communicate in Belarusian in the courtroom.
The defendants' relatives and propagandists were allowed to attend the trial, which is part of a massive crackdown on the opposition in Belarus. About 10 people, including foreign diplomats, were denied entrance. All the defendants are charged with financing post-election protests and smuggling money. In particular, paying fines and lawyer fees for peaceful protesters is presented as an illegal activity.
Bialiatski, Stefanovich, and Labkovich pleaded not guilty. The UN Human Rights Office reported that it was following the case closely and remained in "constant engagement" with the Belarusian authorities.
Thousands of people are following the court proceedings and waiting for a final verdict. We remember Bialiatski saying in an interview with August2020 in May 2021 that "solidarity is in the blood of the Belarusian people". Speaking about his previous incarceration, he pointed out: "You have to have stamina and patience there because sometimes you just have to wait."