Sviatlana Tsikhanouskaya becomes laureate of Four Freedoms Award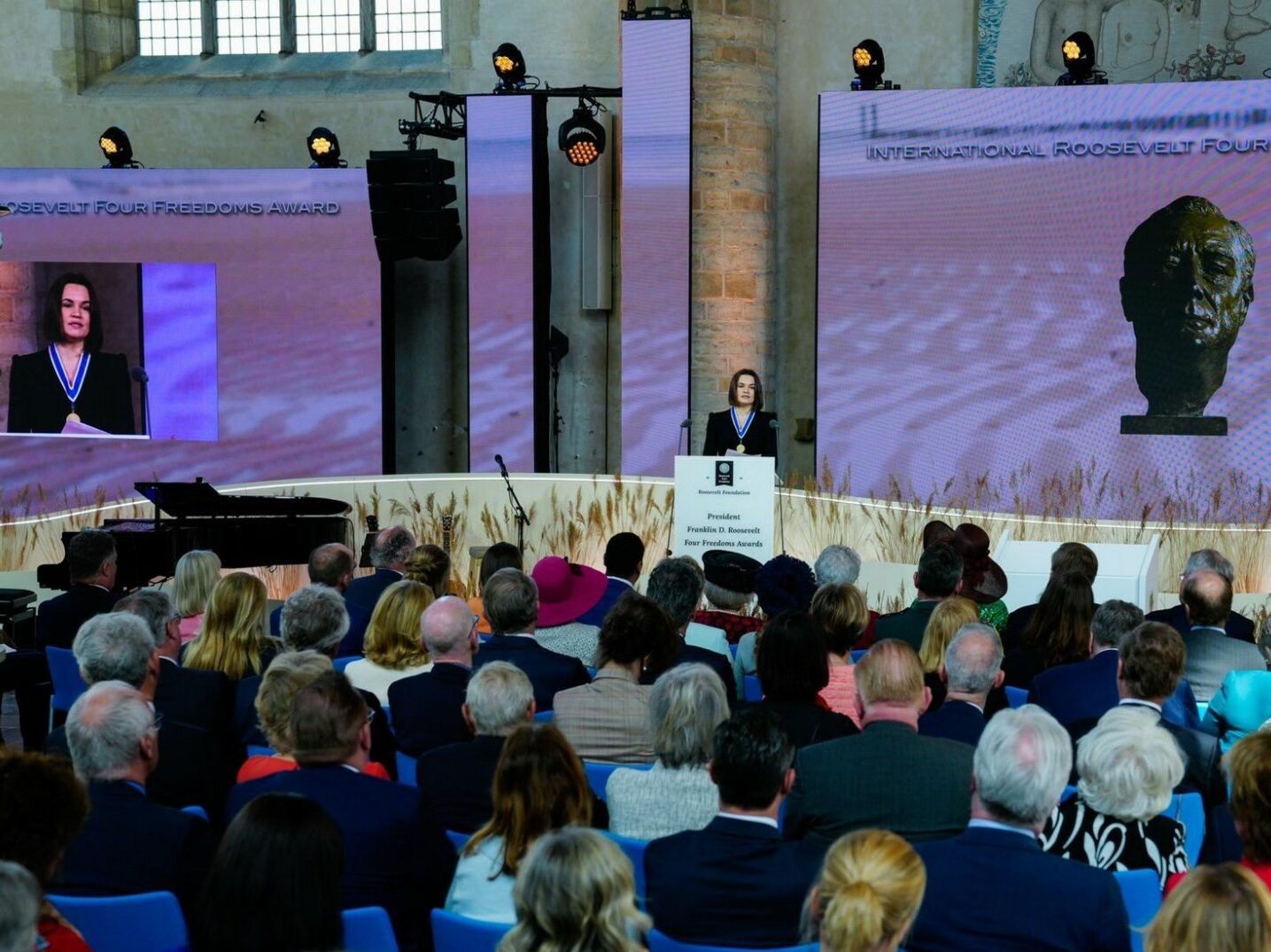 The Roosevelt Foundation presented Sviatlana Tsikhanouskaya with the prestigious Four Freedoms award for leading the peaceful resistance against the oppressive regime in Belarus and being a prominent advocate of political and civil freedom. In her powerful acceptance speech, the politician stressed the importance of learning to "call things by their right names" and shared the following important messages:
"I have a feeling the world does not really understand what the regimes in the Kremlin and Minsk truly are. Fear blinds. Indifference blinds. Economic interests blind. There is no other way to say it: these regimes are an absolute evil today. This evil grows like a disease, and it will not stop in Belarus and Ukraine."
"When the Russians attacked Ukraine, people in Belarus made a choice to take to streets in cities all over the country. It was a difficult and painful choice. One and a half thousand people got arrested within the first weeks. But it was the right choice. People in Belarus are arrested every day. For praying in the church of Ukraine. Imagine if right now plainclothes men were sneaking in during the service to identify worshipers and arrest them. That is Belarus today. But Belarus still resists."
"Dictators cannot be re-educated. Tyrants are emboldened by appeasement, not placated. Europe gained its freedom from Hitler not through appeasement, but through firm and united action against Hitler's Reich. Only if the world unites in the fight against evil will we be able to win. Let's not forget that solidarity and humanity are our superpowers. And it distinguishes us from evil."
Tsikhanouskaya also paid tribute to the bravery of fellow Belarusians who participate in the Anti-War Movement by protesting in the streets and disrupting Russian transport on the railways. "We will continue to fight for the freedom of Belarus, for Ukraine, and against the tyranny that wants to send the world back to the dark ages," she said. "If we fail, darkness will fall. But for every mother rescuing her kids, for every child rescuing their parents, for every act of compassion, I see that love is stronger than hate."
"We can't let dictators make history because history – and future – belong to us," concluded the Belarusian opposition leader.