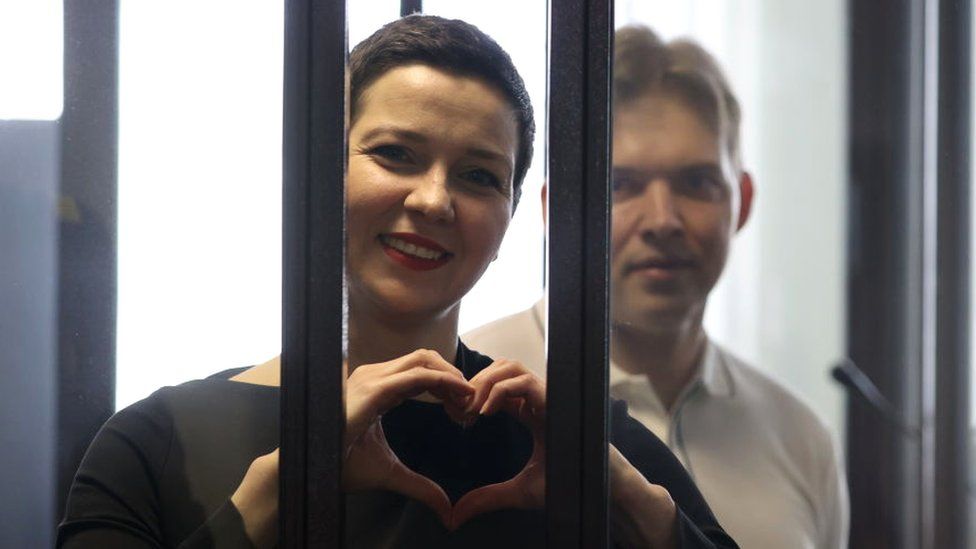 Maria Kalesnikava and Maksim Znak in the courtroom.
The criminal case against Maria Kalesnikava and Maksim Znak went to trial in Minsk. Maria and Maksim are representatives of the ex-presidential contender Viktar Babaryka's team and members of the Presidium of the opposition Coordination Council. The trial is being held behind closed doors, despite demands for open trial from more than 3,800 people, including politicians and civic activists from different countries.
Both defendants face up to 12 years in prison. They are charged under Part 3 of Article 361 (calling for action to harm national security), Part 1 of Article 357 (conspiracy to seize power by unconstitutional means), and Part 1 of Article 361-1 (creation and leadership of an extremist group) of the Criminal Code. The prisoners' lawyers stated that, in fact, Maksim Znak was being prosecuted for expressing his professional opinion on legal issues and for exercising his fundamental rights, and Maria Kalesnikava's actions were aimed not at inflicting, but at preventing harm to national security.
Human rights organizations recognized Kalesnikava and Znak as political prisoners. At the trial, both political prisoners radiated calmness and confidence, and Maria danced in the cage, smiled and showed her trademark heart gesture, which millions of Belarusians have fallen in love with.