Political prisoner Stsiapan Latypau attempts suicide right in courtroom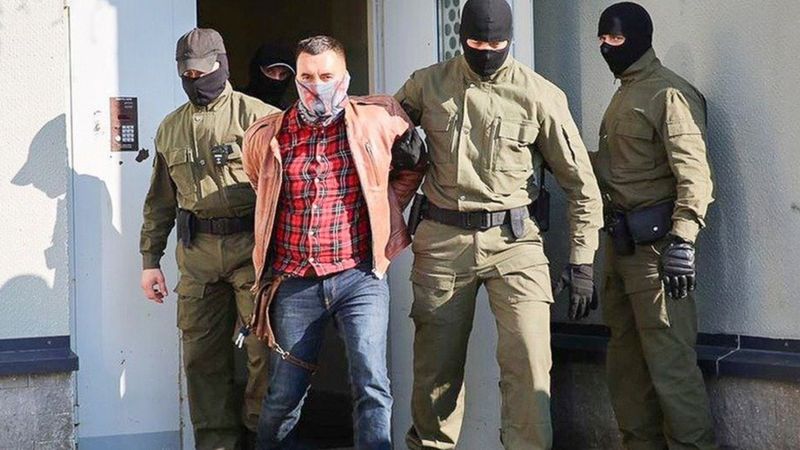 On 1 June, a trial of the Square of Changes resident Stsiapan Latypau began. Right in the middle of the court hearing, Stsiapan attempted suicide by stabbing himself in the throat with a ballpoint pen.
"The Main Directorate for Combating Organized Crime and Corruption (one of the law enforcement agencies – editor's note) promised that if I did not admit my guilt, they would start criminal cases against my relatives and neighbors," said Stsiapan before committing the act. Before his suicide attempt, Stsiapan Latypau told his father that he had spent 51 days in a special cell. In this cell other convicts, in agreement with the penal colony administration, put pressure on the "unwanted" inmates, while the guards make a show of not noticing this. This is done to demoralize a person or beat a testimony out of them.
By the time doctors were able to get inside the cage where Stsiapan was kept during the hearing, he had already lost consciousness. Stsiapan was hospitalized and underwent a surgery. The authorities claimed that his life was not in danger. The doctors were prohibited from disseminating any information about Latypau's condition.
Before the start of the trial, the witnesses noticed that Stsiapan was limping and had a swollen face and a black eye. When the judge asked if Latypau had any questions for the victim policeman, he replied that he did. "Victim, you said that I kicked you in the face. Look at me. Did you have a swelling on your face as I do?" Latypau asked. "No," the policeman replied. "No further questions," said Latypau. That was the hint Stsiapan gave to those present that he had injuries on his face from beating.
Stsiapan was detained on 15 September 2020. The moment of his arrest was captured on video as Stsiapan and other apartment block residents were defending the "DJs of Change" mural in the Square of Changes. Several police officers approached them, and Stsiapan asked them to introduce themselves. Instead, the policemen twisted Stsiapan's arms, threw him to the ground, and took him away.
Latypau's apartment was searched, and he ended up in a pre-trial detention center. Initially, Stsiapan was accused of conspiracy to use chemical substances to poison security forces officials. However, now the charge is completely different: he is charged with committing actions that grossly violate public order and large-scale fraud. Nobody is talking about poisoning anymore.
Stsiapan Latypau was discharged from a hospital a few hours after the surgery he had following the suicide attempt in the courtroom. He was sent back to the pre-trial detention center, which deprived him of the right to receive further medical assistance. The "trial" of Stsiapan Latypau is to continue on 10 June.