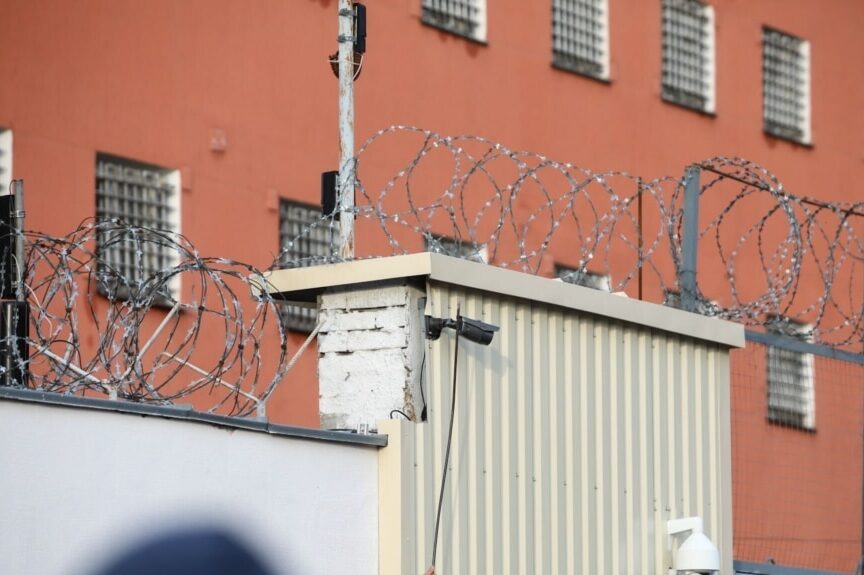 Akrestsina detention center. Archive image.
More than 800 people were detained in Belarus on 27 February 2022 for participating in anti-war protests. Most of them were given 15-day jail sentences. A Minsk resident was placed in custody even before the referendum. He talked with RFE/RL's Radio Svaboda about what he had witnessed in a detention center during those days.
Anton (not his real name) was detained on 17 February for reposting "extremist content" in social media. His cellmates were programmers who had also been preventively arrested before the referendum, allegedly for disorderly conduct. Their detention was carried out in the same manner: they were invited to a "conversation" with a district police officer, where a report was drawn up for "disorderly conduct", and they were sent to the detention center. The four-person cell was packed with 10 to 16 people, mattresses and bedding were confiscated, and the detainees were awakened at night for roll call.
On 27 February, when mass anti-war protests took place all over Belarus, many more people were brought to the detention center. On that day, the regular guards were gone and replaced by riot police. "I could hear terrible screams and sounds of beatings coming from the corridor. People were being beaten for standing in a "wrong" position. Twenty people were put in four-people cells," says Anton. A severely beaten man ended up in Anton's cell. He was "punished" by siloviki from the Main Directorate for Combating Organized Crime and Corruption for steadfastly refusing to record a "confessional" video.