"The Night of the Executed Poets": commemorative events across the globe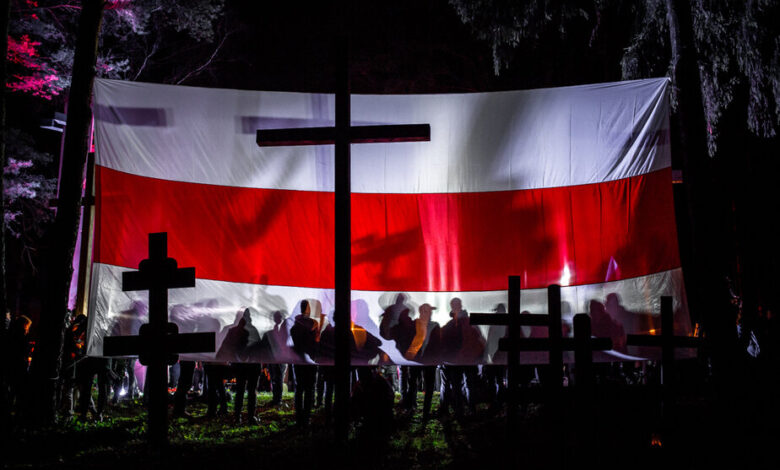 On the night of 29-30 October 1937, a tragic event unfolded in the Kurapaty area near Minsk, where Stalin's executioners shot 108 Belarusian poets, novelists, translators, critics, state figures, and scientists. This ruthless purge, aimed at eliminating Belarusians who were declared "enemies of the people", lasted from 1929 to 1938. Over this period, more than 500 prominent cultural figures fell victim to this brutal campaign. Over 100,000 people were compelled into exile, executed, or sent to Gulag camps.
Annually, Belarusians gather to commemorate these victims, honoring their memory by reading the works of the slain poets. According to Salidarnasc, this year, commemorative events took place in at least 16 countries around the world, with approximately 50 different location spots marked on the collective map. However, none of these events were held in Belarus. Moreover, 134 cultural workers are currently held in prisons in Belarus for political reasons. Among them is one of the founders of the Kurapaty memorial.
Belgium
As reported by Nasha Niva, the Belarusian Uniate Church in Antwerp held a memorial prayer for the souls of the representatives of the Belarusian intelligentsia shot in the NKVD prison on the night of 29-30 October.
Lithuania
A commemorative event was held in Vilnius, which brought together foreign ambassadors, public activists, and prominent figures from the world of arts and literature. All participants read poems by authors who were repressed in the past and those who continue to face oppression today. Additionally, this year a children's choir delivered a poignant performance.
Poland
In Warsaw, the Museum of Free Belarus hosted a literary and theatrical event involving Kupalaucy where they recited poems of the executed poets. Additionally, a lecture titled "Belarus is (Not) Shot" by historian Ales Smalianchuk was held as part of the event.
On that day, at St. Alexander's Church in Warsaw, the VOLNY CHOR choir performed songs inspired by the works of Aleś Dudar, Tsishka Hartny and Michaś Čarot who were killed by the Bolsheviks, as well as the repressed Mikalai Shchahlou-Kulіkovіch, Natallia Arsiennieva, Mikola Ravenski and others.
Switzerland
Members of the Belarusian-Swiss association RAZAM also paid tribute to the memory of the executed Belarusian authors.