Mass anti-war protests take place in Belarus: 800 detained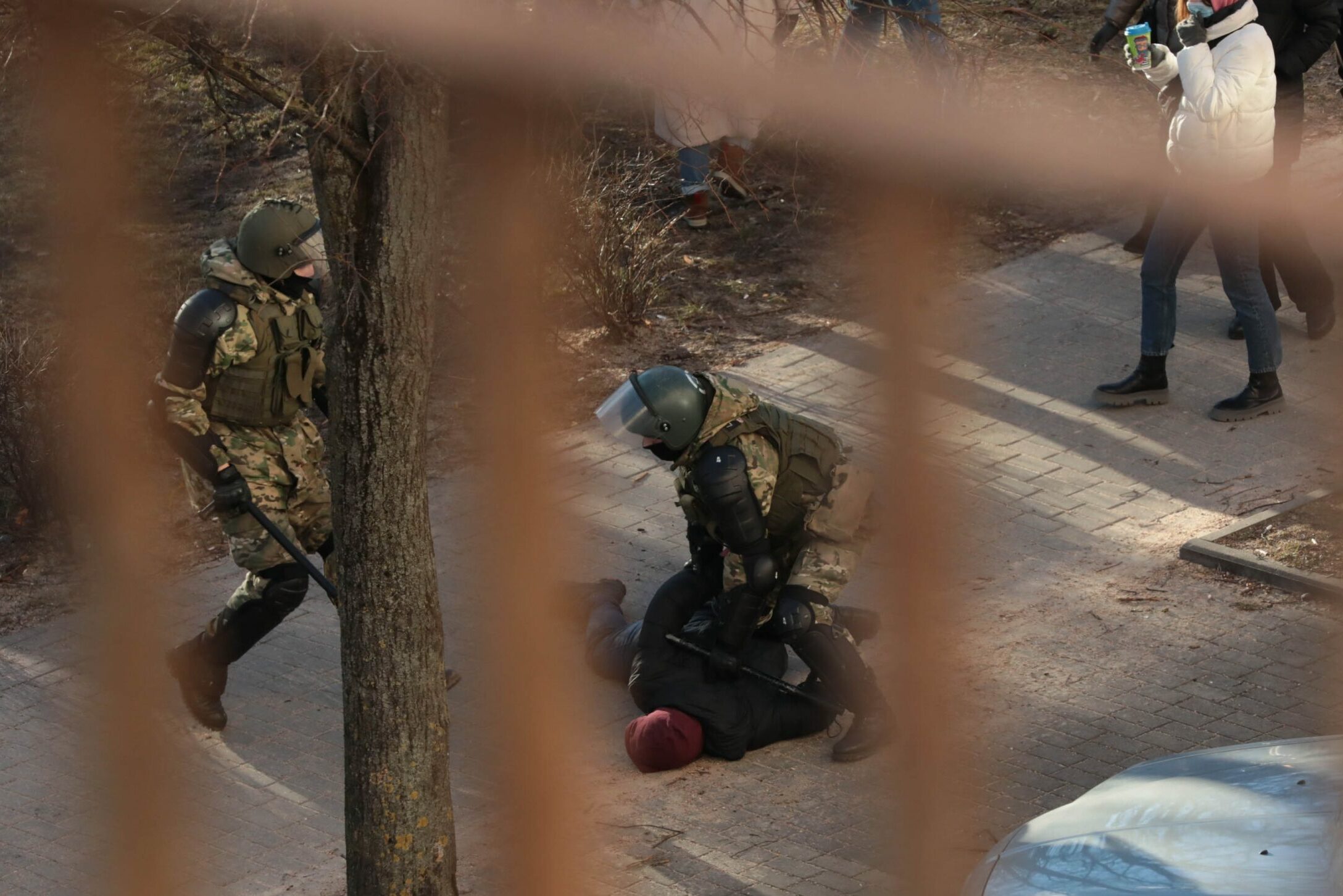 February 27 was the principal voting day in Belarus in the sham referendum initiated by Lukashenko. There was only one question on the ballot: "Do you accept the amendments and additions to the Constitution of the Republic of Belarus?" The day started quietly enough. Only numerous police vehicles on the streets of the cities from the early morning indicated that it was not an ordinary Sunday.
At 2 pm, queues began to form at polling stations. This is how Belarusians responded to the proposal of Belarus' democratic forces to vote at this very time to express their disagreement with the country's participation in Russia's war against Ukraine. People chanted, "No to war!", "Glory to Ukraine!" and "Long live Belarus!"; some carried Ukrainian and Belarusian white-red-white flags. Later, some people marched from polling stations through the streets of their cities while passing cars honked in support. A convoy of protesters marched outside the Uskhod subway station in Minsk, carrying a Ukrainian flag and chanting, "No to war!"
The police reacted fast. In many cities, people were detained inside polling stations, near them, or just on the street for saying "I am against the war", wearing blue and yellow, car honking, photographing ballots, or even while waiting for their turn to vote. In Minsk, a woman was detained while walking her dog alone. In Hrodna, several people were detained because they refused to leave the polling station, where they had every right to be as voters.
At about 5 pm, a large number of protesters gathered near the main building of the Ministry of Defense in Minsk. Many were carrying Ukrainian flags and chanting anti-war slogans. All central streets of the capital were filled with honking cars. People in some of the cars were playing the Ukrainian anthem. The protesters were dispersed by security forces in black and olive uniforms without insignia: apparently, those were riot police and internal troops. They isolated small groups of people and grabbed all but the elderly.
People continued to carry flowers to the Ukrainian embassy, as they had done on previous days. The entire fence near the embassy was covered with flowers. But security officials arrived there to disperse the participants of the peaceful solidarity action.
According to the Ministry of Internal Affairs, 800 people were detained on Sunday in more than a dozen cities and towns across Belarus. Not all the detainees' names are known yet.