Detentions of independent media journalists continue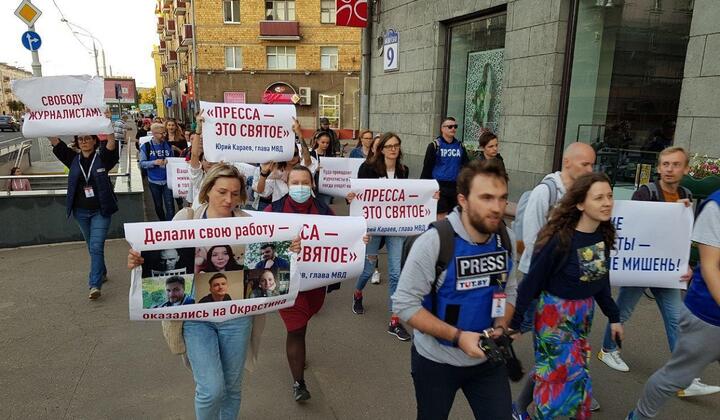 In Brest, the homes of the employees of the local magazine Binokl (Binoculars) were searched: security forces came to the publisher of the magazine Darya Harashchanka, photographer Volha Latyshava, and editor Kseniya Piatrovich.
In Mahiliou, police searched the editorial office of the Mahiliou Region website. Security forces confiscated computers and other equipment. Police officers came to the editorial office of the Mahiliou portal 6tv.by and seized the equipment. Ales Asiptsou, a freelance BelaPAN journalist in Mahiliou, was accused of "illegal production of media content".
In Homel, a search was carried out at Hanna Strelchanka's place, an accountant of the Homel-based Silnyie Novosti media outlet.
The editorial staff of Nasha Niva newspaper will stop working in Belarus for security reasons. Four Nasha Niva employees, including editor-in-chief Yahor Martsinovich, were detained on 8 July 2021 on suspicion of organizing actions that violate public order. Yahor Martsinovich was beaten during the arrest. The authorities have since blocked the Nasha Niva website.
Twenty-nine media representatives remain imprisoned in Belarus. Two journalists have been convicted and are serving their sentences in a penal colony. Since the beginning of the year, 87 detentions of journalists and 107 searches were documented, as well as six instances of violence and assaults on journalists while performing their professional duties. Journalists were under administrative detention 21 times and were fined 38 times for a total of $18,000 USD. Most of the detained journalists were recognized as political prisoners.