Johnson to Tsikhanouskaya: "We admire the courage of the Belarusian freedom fighters"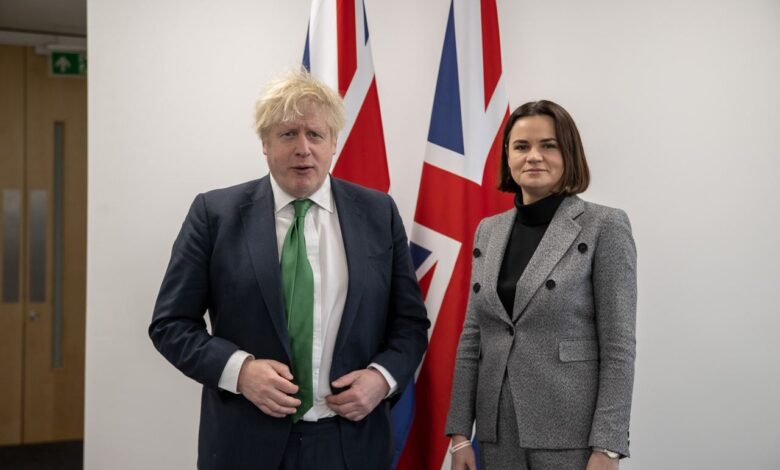 Sviatlana Tsikhanouskaya began her visit to London, where she met with the former British Prime Minister Boris Johnson. The parties discussed the situation in Belarus, Belarusian guerrillas, and assistance to Belarusian volunteers in Ukraine.
Tsikhanouskaya commented on the recent brave act of Belarusian guerrillas in damaging the Russian Beriev A-50 aircraft at the Machulishchy airfield, noting that it demonstrated the vulnerability and weakness of the Lukashenko regime. Boris Johnson underscored how much Belarusians are doing to support Ukraine:
We must also not forget about Belarus in what is happening in Ukraine. In particular, we should recognize the bravery and heroism of the Belarusian freedom fighters who protect liberty in Ukraine and help expel Putin's forces. We are full of admiration of the bravery of those Belarusian fighters.
During her visit to London, Sviatlana Tsikhanouskaya also visited the Foreign Office, where she met with Foreign Secretary James Cleverly and Europe Minister Leo Docherty. The issues Tsikhanouskaya discussed with them included repression in Belarus and support for the international platform aimed at collecting evidence of Lukashenko's crimes. The platform has already gathered more than 15,000 documents needed for future trials. They also discussed the possibility of launching a criminal case against the Lukashenko regime in the International Criminal Court. Tsikhanouskaya pointed out that it was crucial that Lukashenko could not escape responsibility for both war crimes and crimes against humanity.