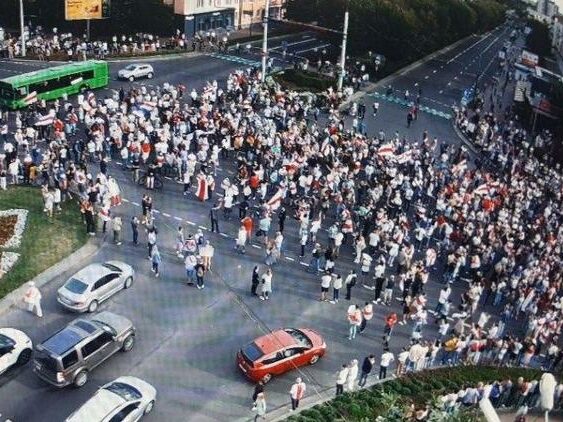 Round dancing during protests in Brest. Photo credit: belsat.eu
On 13 September 2020, the March of Heroes was held in Brest, one of the largest cities in Belarus, to protest against the rigged presidential election. During this protest rally, over a thousand people listened to music, sang songs, laughed, and danced a round dance – everything looked like a festival. Some time later, security forces arrived and started aggressively dispersing the people, firing a water cannon at them. Since then, Brest residents have called this intersection "waterboarding", and a criminal case that was later opened against the protesters has been dubbed the "round dance" case. The "round dance" case hearings have been going on since January 2021. The defendants, charged with gross violation of public order, are being tried in groups.
Human rights activists call it one of the biggest politically motivated trials in the history of Belarus. There have already been 129 verdicts in the "round dance" case. Those convicted in the case received a combined total of 125 years of probation, more than 90 years of open prison, and about 14 years in prison. Some of the convicted have already served their time and have been released. Some of those convicted managed to flee abroad.
The latest trial was held on 17 May 2022. It has been the fastest trial of Brest protesters so far: it did not even last an hour. Andrei Ulasau and Yuliya Suvalka were sentenced to 3 years of probation.
It became known that two defendants in the sensational trial of Mikalai Autukhovich, in which 12 people are charged with arson and preparation of terrorist attacks, also stand accused in the "round dance" case. These are businesswoman Iryna Melkher and her son Anton.
One of the previously convicted protesters, political prisoner Yuliya Laptanovich, will be tried again. According to the investigation, she disclosed information on who was involved in the criminal prosecution of her family for a compensation. In addition, her bank card was used to receive funds that she then distributed to the victims of repressions. She faces up to 7 years in prison. Her husband Ihar has been in prison for over a year. Yuliya and Ihar have three children waiting for them at home.