Sviatlana Tsikhanouskaya announces creation of United Transitional Cabinet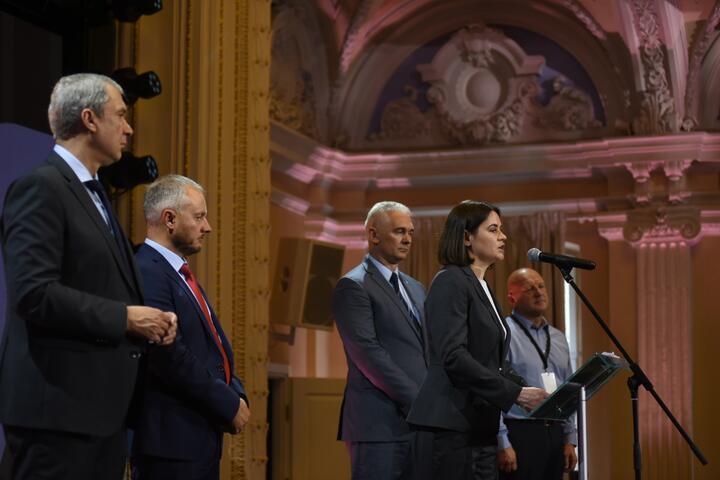 Following the New Belarus conference held in Vilnius on 8–9 August 2022, Sviatlana Tsikhanouskaya announced her decision to establish the United Transitional Cabinet, a collective executive body that will work to achieve the main goals:
Defend the independence and sovereignty of the Republic of Belarus, represent the national interests of Belarus, and carry out the de facto de-occupation of Belarus.
Restore constitutional legality and the rule of law.
Develop and implement measures to thwart the illegal retention of power, ensure the transit of power from dictatorship to democracy, and create conditions for fair and free elections.
Develop and implement solutions needed to secure democratic changes in Belarus.
As a result, all political prisoners must be released.
Sviatlana Tsikhanouskaya nominated the first candidates for a six-month appointment in the future representative body: Pavel Latushka, Cabinet representative for the transit of power; Aliaksandr Azarau, Cabinet representative for the restoration of law and order; Valery Kavaleuski, Cabinet representative for foreign affairs; and Valery Sakhashchyk, Cabinet representative for defense and national security.
Tsikhanouskaya noted that the Cabinet would expand and all candidates were to be approved by the Coordination Council. The leader of Belarusian democratic forces emphasized that the movement needs more women's voices. "It is thanks to women that the changes have been made possible," said Sviatlana Tsikhanouskaya.
During the conference, the organizing committee adopted the Declaration on the goals and values of the united movement, statements in support of Ukraine and against the regime's anti-Polish campaign, and the Code of Ethics for the democratic forces.
Sviatlana Tsikhanouskaya announced the launch of the Digital Belarus app in the fall and the Coordination Council's reorganization in September. She promises to explain the possible implementation of the three-billion-dollar EU assistance plan by October and present the concepts of economic and legislative reforms by November.