How Belarusians are persecuted for anti-war activities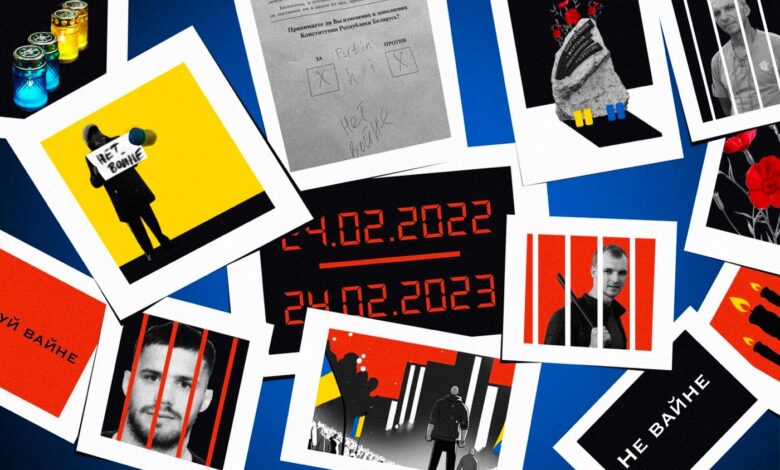 Since the start of the Russian military invasion of Ukraine one year ago, Belarusian authorities have persecuted Belarusians for any display of an anti-war stance. At least 1,575 people were detained for participation in anti-war rallies and pickets, acts of sabotage, and online comments in Belarus this year. Of these, 56 people received prison sentences ranging from 1 to 23 years. The Viasna Human Rights Center reports on what manifestations of anti-war sentiment Belarusians were persecuted for.
Participation in anti-war rallies and pickets
February 27–28, 2022 saw the most massive anti-war protests in Belarus. During these two days alone, at least 1,100 people were detained. Belarusians were persecuted for blue-and-yellow ribbons, "No to War" graffiti, and laying flowers next to the Embassy of Ukraine in Minsk. Anti-war rallies took place not only in Minsk but also in other regions. Many people were severely beaten while being detained.
Information warfare
Belarusians share photos and videos of Russian military equipment and information about its movement in Belarus with the Belarusian Hajun monitoring project and independent media, for which they are actively prosecuted by the authorities. At least 32 criminal cases have already been opened for imparting such information.
Rail guerrillas' activities
Lukashenko allows Russian troops to use Belarusian territory to transport military equipment to Ukraine. Rail guerrillas have hindered the movement of Russian military equipment by carrying out acts of sabotage on the railroads. As of today, 12 people went to trial on the charges related to such acts of railway sabotage. The defendants were sentenced to a combined total of more than 190 years in prison.
Willingness to fight on Ukraine's side
After the start of the war, Belarusian volunteer fighters established the Kastus Kalinouski Regiment, which later became part of the Ukrainian Armed Forces. One can send a request via a Telegram bot to join the Regiment. Belarusian authorities have arrested at least 11 people who initiated a conversation with the bot from their phones. In addition, families of those Belarusians who have already joined the Kalinouski Regiment are subjected to pressure: security forces break into and vandalize their homes.
Human rights defenders also documented cases of repression against 20 people for making anti-war comments on the Internet and providing financial assistance to the Kalinouski Regiment and the Ukrainian army. The number of unreported cases could be much higher.