Lukashenko is one step closer to The Hague Court. Here's why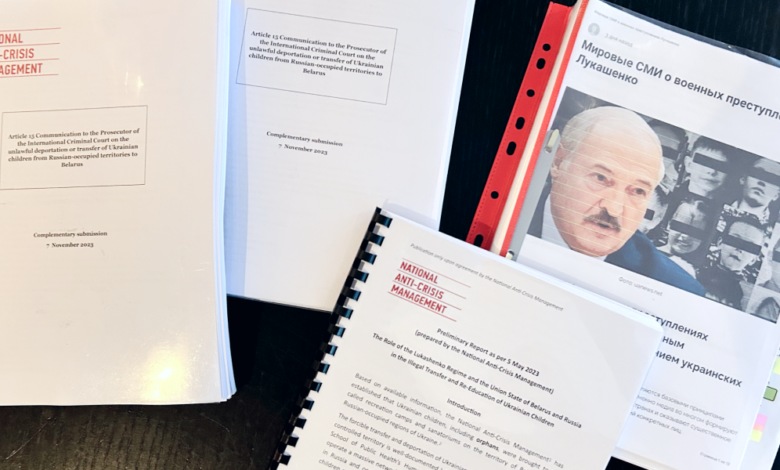 Deputy Head of the Joint Transitional Cabinet Pavel Latushka and representatives of the National Anti-Crisis Management visited the office of the Prosecutor of the International Criminal Court in The Hague and handed over the second part of the court records on the involvement of Lukashenko and his close associates in the war crime — the illegal transfer of Ukrainian children, reports Malanka Media.
The documents establish the hierarchy of "boss-subordinate" relations between Lukashenko and his accomplices. New court records include:
The court records are supplemented by new evidence that the children were not taken to the camp for medical treatment or medical rehabilitation but were instead subjected to propaganda indoctrination.
"Instead of rehabilitation, the children participated in an extensive program of activities, which included elements of political, namely anti-Ukrainian, pro-Lukashenko, and pro-Kremlin re-education, and militarization of Ukrainian children," said representatives of the National Anti-Crisis Management.
All evidence is complemented by a comprehensive legal assessment of the individual criminal responsibility of all persons involved in the crime, the press service of the politician claims.
"The records submitted to the ICC contain the personal data of 37 Ukrainian children, illegally deported from the territory of Ukraine, which was established by the National Anti-Crisis Management team. In total, according to the National Anti-Crisis Management, over 3,000 Ukrainian children were taken to Belarus from more than 20 temporarily occupied cities and settlements of Ukraine, of which over 2,100, including orphans, were displaced with clear violations of international humanitarian law", said the National Anti-Crisis Management representatives.
Bringing Lukashenko to justice. What has been done so far?
To date, the National Anti-Crisis Management team has taken three steps to bring Lukashenko and his associates to justice.
First step. The National Anti-Crisis Management team prepared a preliminary report concerning the unlawful deportation of Ukrainian children. This report was showcased at the Council of Europe in the European Parliament, and submitted to the Ministers of Foreign Affairs of both Ukraine and EU countries, as well as to the US State Department. It was also presented to deputies of the Parliamentary Assembly of the Council of Europe and the Verkhovna Rada of Ukraine. Additionally, it was delivered to the Prosecutor General of Ukraine and the Commissioner for Human Rights of Ukraine. The findings were extensively covered in global media outlets.
Second step. In June, the National Anti-Crisis Management team handed over a communication in accordance with Article 15 of the Rome Statute to the ICC prosecutor on the illegal deportation and transfer of Ukrainian children from the Russian-occupied territories to Belarus.
Third step. The second part of the documents with additional evidence of the war crimes of Lukashenko and his accomplices was handed over.
The National Anti-Crisis Management team continues to search for and identify victims of these war crimes and sets three key goals: