2 years passed since Raman Bandarenka's death. Who was held accountable for it?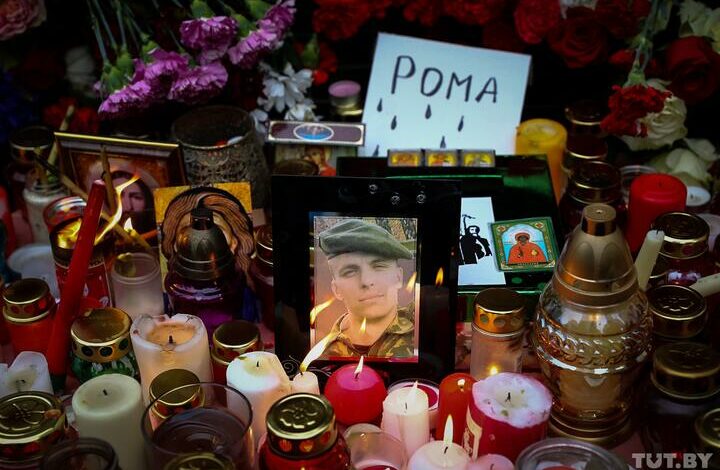 Raman Bandarenka was abducted from the Square of Changes and beaten up by security officers on November 11, 2020. He succumbed to his injuries at the hospital the next day. To this day, people who demand the truth about Raman's death are persecuted in Belarus.
"I am heading out" was the last message Raman Bandarenka posted in a local chat group before going down to the Square of Changes. There, unidentified people were cutting off white-red-white ribbons, a symbol of protest against the dictatorship and lawlessness, at night. The plainclothes men in masks grabbed Raman and took him away in a minibus; later, they brought him to a police station unconscious. Raman died in the intensive care unit from injuries incompatible with life on the evening of November 12, 2020.
Today, on the second anniversary of Raman's death, Belarusians abroad are gathering to honor his memory and that of all those murdered by the regime. It's not safe to do this in Belarus.
A criminal case on Raman's murder hadn't been opened until three months after his death. Soon after, the Prosecutor General's Office suspended it, citing the impossibility of identifying those involved in Raman's death. At the same time, journalists have identified several people who are very likely to have been in the Square of Changes on the evening of November 11. However, it was journalists who were persecuted by the regime in the first place. Katsiaryna Barysevich, a TUT.BY journalist, spent six months behind bars for interviewing an ambulance doctor Artsiom Sarokin who refuted the General Prosecutor's Office's allegations that Raman had been drunk.
The murder of Raman Bandarenka provoked a wave of indignation in Belarusian society. Memorial events were held all over the country, and a makeshift memorial was set up at the site of the tragedy in the Square of Changes. The November 15 march in memory of those killed during the protests was brutally dispersed, and more than 1,100 people were detained. A few hours later, the people's memorial to Raman was dismantled. Belsat journalists Katsiaryna Andreyeva and Darya Chultsova were detained for live streaming from the scene. Darya has been recently released after serving her two-year sentence while Katsiaryna faced new charges and was sentenced to eight years of imprisonment.
Uladzislau Bahamolnikau, an Eastern Orthodox priest who held a memorial service for the murdered Raman Bandarenka and went on a hunger strike in support of political prisoner Ihar Losik, has been held in custody since August 31, 2022.