300 European parliamentarians take on godparenthood for political prisoners in Belarus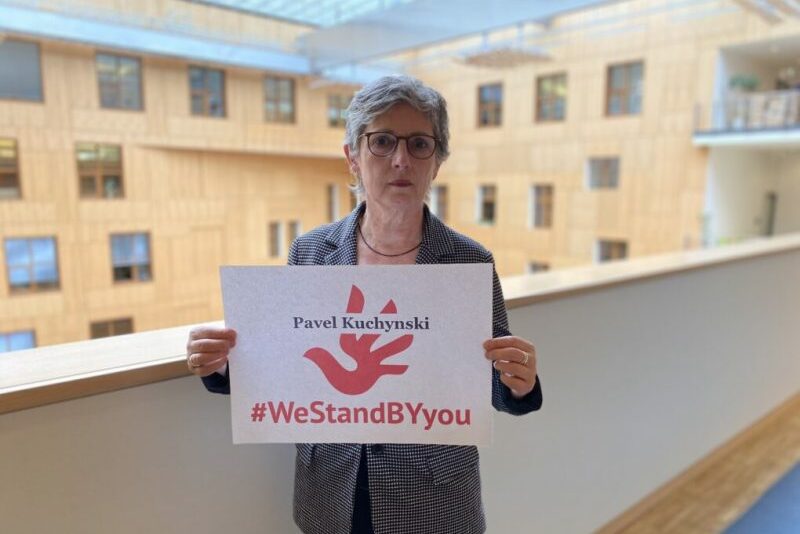 Libereco's #WeStandBYyou campaign has reached an important milestone: Britta Hasselmann, a co-chair of the Alliance 90/The Greens parliamentary group in the German Bundestag, has become the 300th symbolic "godmother" of a political prisoner in Belarus.
Three hundred "godparents" from 17 European countries illustrate the continuing and enormous European solidarity with the victims of the Lukashenko regime. However, this number also underlines the massive political repression in Belarus: the number of political prisoners has already exceeded 1,250. People are still being imprisoned for participating in protests against the rigged presidential elections in August 2020. At the same time, the Lukashenko regime is now persecuting people who oppose Russia's war in Ukraine and Belarus' participation in it.
The Lukashenko regime does not shy away from sentencing gravely ill people to long prison terms and subjecting them to inhumane prison conditions. Among the innocent detainees are dozens of people suffering from serious illnesses such as cancer, heart disease, or the consequences of violence by security forces. Pavel Kuchynski, who is now Britta Hasselmann's "godson", suffers from stage IV cancer. According to the court ruling, Kuchynski is to spend the next 4.5 years in prison without the necessary medical treatment.
Currently, there are about 30 political prisoners who have life-threatening conditions in Belarus. Political prisoners do not receive adequate health care during their imprisonment, even if they ask prison authorities for it. The Lukashenko regime thereby violates Belarusian law and universal human rights.
Libereco will continue and expand the #WeStandBYyou godparenthood campaign as long as the Lukashenko regime continues the repression against dissidents and arbitrarily imprisons these innocent people as political prisoners.