Volodymyr Zelensky wears vyshyvanka shirt designed by Belarusian artist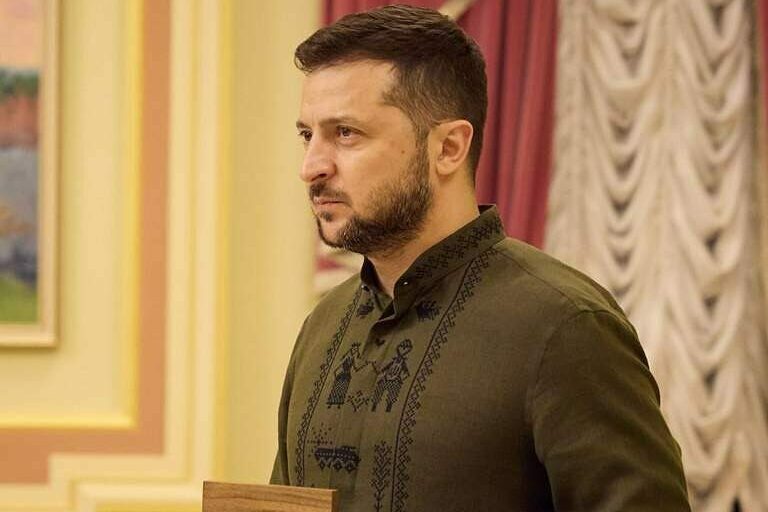 On the eve of the important Ukrainian national holidays, Ukraine's President Volodymyr Zelensky recorded another daily address to his people wearing a "vyzhyvanka" – a khaki-colored vyshyvanka shirt with the embroidery designed by Belarusian artist Rufina Bazlova.
It was a pleasant surprise for Rufina. "I was about to go to bed late Sunday night, and a friend from Belarus sent me a message: 'Look, Zelensky is wearing your embroidery shirt.' It was a shock for me! It is such a pleasant feeling. And it is a great honor that the President of Ukraine is wearing my 'vyzhyvanka' at such a difficult time: I don't just make vyshyvankas, but 'vyzhyvankas'," the artist said in an interview with Radio Svaboda.
Rufina uses the visual language of Belarusian traditional red and white embroidery to tell the story of the 2020 Belarusian protests in her "vyzhyvankas". By slightly changing the word "vyshyvanka", Rufina Bazlova transforms it into a version of the Belarusian verb "to survive" (vyzhyvats'). Ukrainian-themed vyzhyvankas were introduced after the outbreak of the war in Ukraine. In May, the artist started collaborating with the Ukrainian menswear brand Indposhiv. Most of the proceeds from the sale of their white-red and khaki embroidered shirts go to support Ukraine's Armed Forces. Now, the Ukrainian President wears one of these.
"Framed in Belarus" is another important project that Rufina Bazlova is working on together with Sofia Tokar. It is a series of embroidered portraits dedicated to political prisoners in Belarus. Anyone can take part in the project after submitting an application. Rufina says that, as of now, 110 embroideries are completed, and 382 are in progress. That said, the number of political prisoners in Belarus has already exceeded 1,300.