Tsikhanouskaya: "If we had won then, the suburbs of Kyiv would not have been ravaged by war and destruction"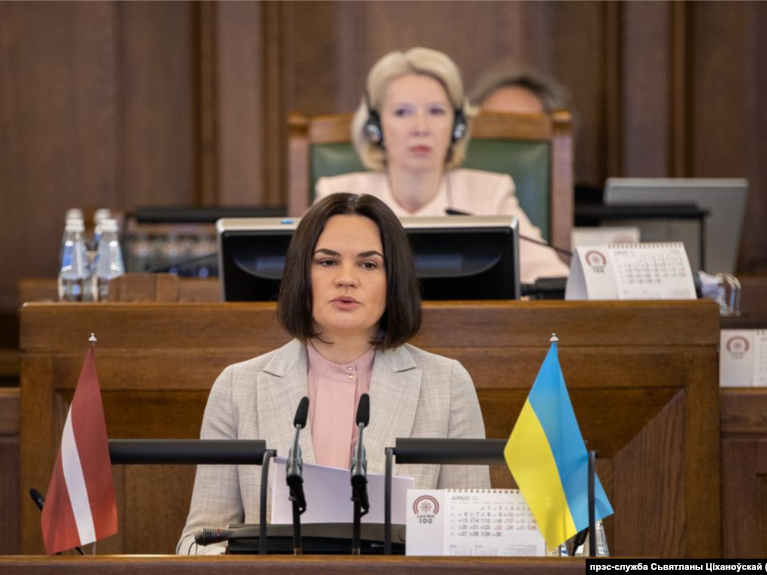 On 9 June, the second day of her visit to Latvia, Sviatlana Tsikhanouskaya spoke at the plenary session of the Saeima. The deputies gave her a standing ovation. Radio Svaboda cites the core messages of her speech.
Sviatlana Tsikhanouskaya called on Latvia to help Belarusians who had suffered from repressions. She thanked the people of Latvia for supporting the Belarusian community since the very beginning of the protests in Belarus and stressed that political repressions are ongoing: "The Stalinist terror returned to the country. The authorities loyal to Soviet ideas and the Kremlin are closing down publishing houses that publish books in Belarusian. Entrepreneurs like Pavel Belavus, who work in shops selling Belarusian national symbols, get arrested. People who are in favor of the European democratic future are being sentenced to Stalinist prison terms."
According to Tsikhanouskaya, sluggish reaction to Lukashenko's crimes on the part of the European Union led to further persecution and repressions in Belarus and tragic consequences in Ukraine: "When the repressions began, we cried out for help, but we were barely heard. Only 10 months later, after the plane hijacking, did the European Union impose real sanctions. It was too late. This allowed the regime to regroup and launch a counteroffensive. If we had stopped Lukashenko then, Belarus would not have become a springboard for Putin's attack on Ukraine. If we had won then, the suburbs of Kyiv would not have been ravaged by war and destruction, Russian troops would not have plundered the Chernobyl nuclear power plant, and thousands of civilians from Bucha, Borodyanka, and Hostomel would have been alive."
Sviatlana Tsikhanouskaya once again accused Lukashenko of carrying out Putin's will while pretending to be a victim to have the sanctions lifted. She also mentioned how Telegram channels and saboteurs contributed to the slowdown of railway traffic, helping impede the invasion of Ukraine by Russian troops.
Sviatlana Tsikhanouskaya called on Latvia to find ways to issue visas to Belarusians, resume the issuance of residence permits, increase the number of student scholarships, and offer programs for Belarusian researchers, journalists, and cultural activists. She also asked to support small and medium-sized businesses relocating to Latvia and give them access to funding and government support programs.