Sviatlana Tsikhanouskaya holds high-profile talks at Munich Security Conference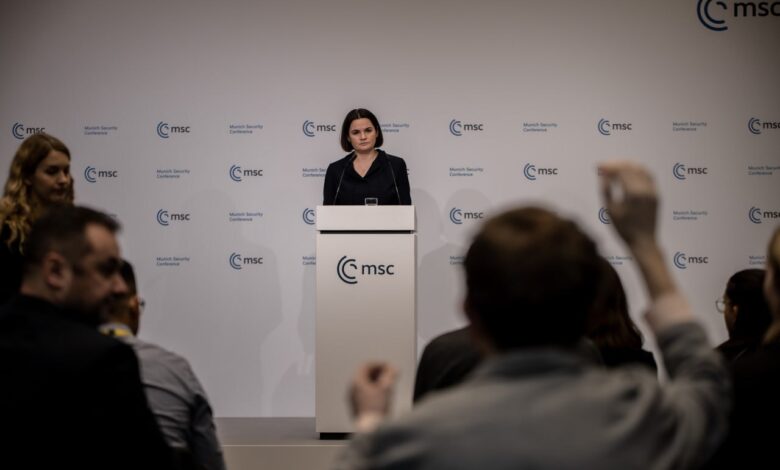 On February 16-18, 2023, leader of the Belarusian democratic forces Sviatlana Tsikhanouskaya took part in the Munich Security Conference, where she talked with European and US partners about security strategies in the Eastern European region and Belarus's key role in them.
In her address, Sviatlana Tsikhanouskaya noted that democratic changes in Belarus would make an important contribution to stabilizing the region and helping stop Putin's aggression. To this end, Belarus should withdraw from the Union State with Russia, the Collective Security Treaty Organization (CSTO), and the military alliance with Russia, the politician stressed. Belarus should normalize its relations with its neighbors, begin regional cooperation with Ukraine, Poland, and the Baltic States, and seek cooperation with EU countries and European institutions. The country also needs a new constitution that will not allow abuse of power. To support achieving these goals, Tsikhanouskaya called upon the European countries to create an international coalition for a democratic and independent Belarus.
At the conference, Tsikhanouskaya met with many high-ranking officials, including the head of the European Commission Ursula von der Leyen, German Chancellor Olaf Scholz, former speaker of the US House of Representatives Nancy Pelosi, European Commissioner for Home Affairs Ylva Johansson, Czech President Petr Pavel, philanthropist George Soros, and others.
The opposition leader also discussed the possibility of issuing democratic Belarus passports to Belarusians in exile, simplifying visa procedures, and issuing migration documents.