Kalinouski Regiment soldiers speak about liberation of Kherson: "It will be the same in Belarus"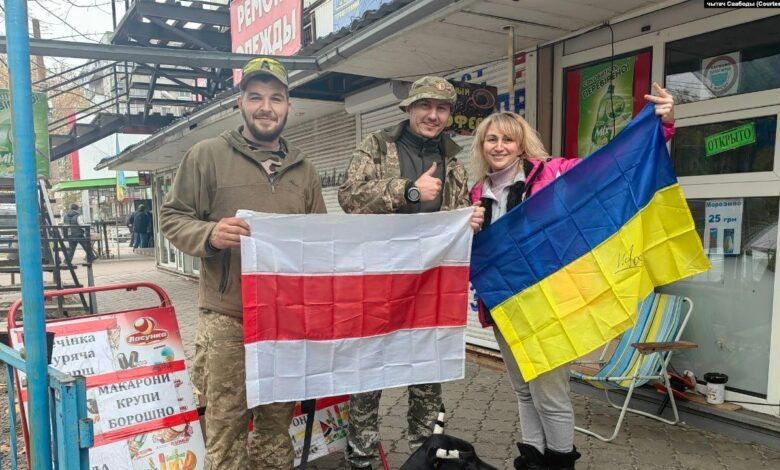 "When people learned that we were Belarusians, they were overwhelmed with love." "Alherd", a Belarusian fighter in the Kastus Kalinouski Regiment, told Radio Svaboda about his participation in the liberation of Kherson.
Aleh "Alherd" Auchynnikau has participated in military operations on the Ukrainian side since February 2022. His group recently occupied a position near the village of Oleksandrivka located 40 kilometers from Kherson. Alherd and his men were able to retrieve a mortar from one of the destroyed vehicles literally one day before the liberation of Kherson. The soldier says:
I have been fighting in the Kherson direction since May. A lot of physical efforts and material resources were put into holding the position and attacking, with several of our vehicles destroyed and ammunition spent. After Russians had retreated, the Ukrainian Armed Forces started entering the city. We entered on November 12 as a part of organized army columns. The Russians left a lot of explosives-laden objects, that was dangerous. There were no special combat operations in Kherson, but they destroyed bridges and the TV tower when withdrawing. There was no electricity or phone service, but now the service is being restored little by little.
According to "Alherd", the feeling of entering the city is difficult to convey, but it was a very emotional and inspiring moment.
Everyone has probably already seen footage of soldiers being greeted with flowers and carried by people. Everything was literally like this! All these people displaying Ukrainian symbols – it was exhilarating. When they learned that we were Belarusians, they were just overwhelmed with love. We were welcomed as liberators. I imagine that the same will happen in Belarus when we come to liberate it.