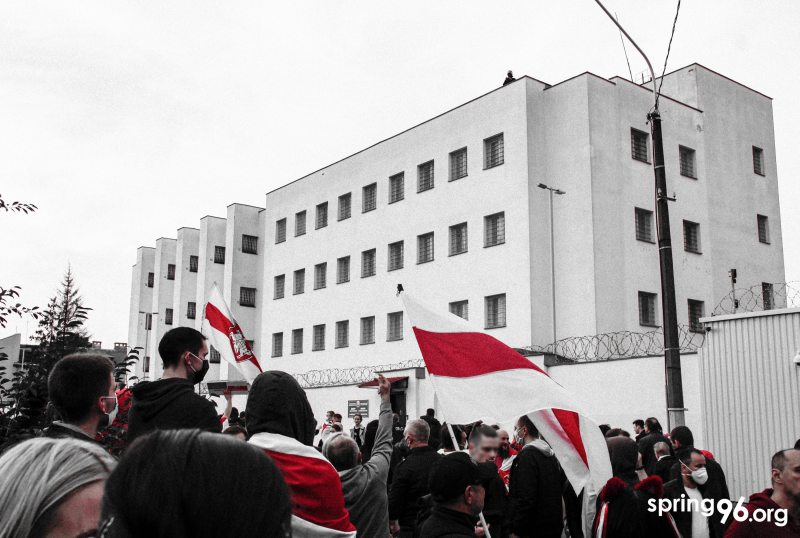 Protesters at the Offender Detention Center at Akrestsina. Fall 2020.
The conditions in which political prisoners are being kept at Akrestsina have not improved during the months of July and August 2021.
The cells at Akrestsina are still overcrowded. Double cells hold 9–15 people, while four-bed cells hold 18–20 people. The prisoners sleep on the cold floor, but the floor space is very limited, so not everyone can even straighten their legs.
"Politicals" (political prisoners) still have no mattresses, pillows or bed linens in their cells. It is not possible to sit or lie down on metal beds. Metal bed slats cause bruises. The light in their cells is switched on around the clock. Instead of alarm clocks, the detainees are woken up with loud music.
The detainees are deprived of almost all of their personal belongings. Their cash is used to pay for food without their agreement. On the day of their arrest, detainees are not given any food.
In July, when it was extremely hot in the cells, people fainted and the clothes they wore rotted because of the high humidity. Political prisoners are deprived of walks outdoors.
For men, the conditions in which they are detained at Akrestsina are even worse. Some of them are still beaten by police officers.
At Akrestsina, the "politicals" are subjected to checks 4–5 times a day: two or three times during daytime and twice at night. The guards allow themselves to empty garbage cans on top of the prisoners' belongings. There are cockroaches running around in some cells, but employees simply ignore this problem.
The situation with medical assistance is the worst at Akrestsina. The medical staff often forget about the detainees with chronic illnesses, which is why they are not given necessary medications.
Despite the fact that there are restrictions in the courts of law due to COVID-19, detainees who display COVID-19 symptoms without a fever are not even isolated in separate cells at Akrestsina. People with a fever are isolated in punishment cells.
The detainees do not receive feminine hygiene products and toilet paper on a regular basis. They literally have to beg for those items for several days in a row.
Many detainees with short-term prison sentences refuse to eat because of the poor quality of food. And the only drinking water available is tap water with an aftertaste of chlorine.