Svetlana Alexievich: "We are dealing with Russian fascism, and Belarus is under occupation"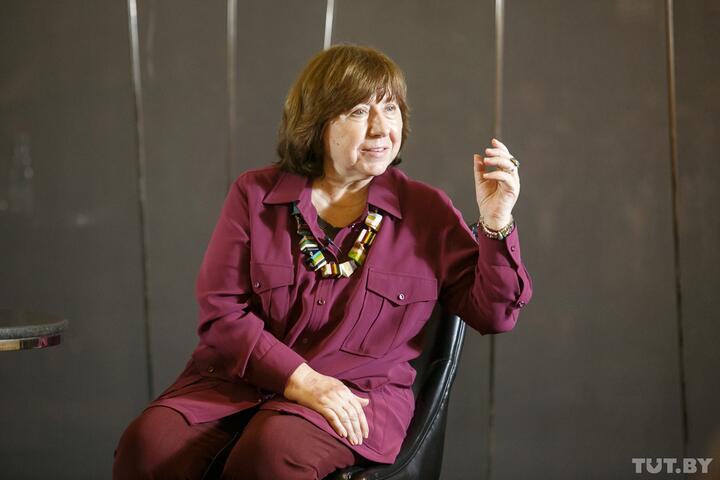 The Nobel Prize laureate in Literature Svetlana Alexievich talked with the Ukrainian FreeDom Channel about the war, her new book, and her conversations with Putin's and Lukashenko's supporters. We feature selected quotes from her interview.
On the culture of war
We are people of war. This is the essence of our culture. They talk about great Russian culture, but the main component of this "great Russian culture" is the culture of war. I remember my generation, and even the generation of my granddaughter, who is 17 years old now… They are taught to kill and die. There is nothing else. This is our main experience.
On cruelty
Now that the war has started, this utterly incomprehensible cruelty was what struck me the most.
I first encountered this cruelty when I started writing a book about our Belarusian revolution. From the very first days, there were people who would catch their own compatriots, their own classmates and groupmates, and make mincemeat of them. When they showed me pictures of people brought in by ambulances, you know, I realized that thousands, millions of books had done nothing [transformational] to people.
On the culture of violence
Our whole culture is not based on love. And we can see it. A military operation is not the only kind of violence. There is family violence, there is "violence in our backyard". There are so many kinds of violence, and I think we grew up in that culture. Our parents probably didn't even fully realize it.
On Belarus' participation in the war
This is a crying shame and disgrace. But I realize that our Belarus is under occupation. It's not a separate independent country, it doesn't exist, it is a part of Russia. And who is the president there? It's not Lukashenko. It is Putin.
Since the revolution was quashed in such a brutal and humiliating manner, people folded into themselves. Some people chose to keep silent or even join the ranks of Lukashenko's supporters. And that's why we can't do anything. What could I have done if I had been there? I would have been like our Nobel Peace Prize laureate Ales Bialiatski, I would have been in custody on Akrestsina Street. I wouldn't have lasted long because of my age and illnesses. This would be rather silly. I can do more by writing a book. That's how it is.
On talking with Lukashenko's and Putin's supporters
When writing books, I even found the strength to communicate with camp guards. You know, I am a writer. What is a writer? It is an honest-minded person. I haven't found the answers, and that's what has been plaguing me. I am looking for those answers. This is my profession. This is my life, and this is my job. If I butt into our conversation and begin imposing my point of view, the person I am talking to may try to hide their true self. They may somehow temporarily change, maybe they will be ashamed in front of me or something else. That's why I always give them free rein, the freedom to say who they are, to shout their truth.
On Ukraine
I bow before Ukrainian soldiers. I saw footage of refrigerator trucks carrying the bodies of dead heroes and all the people running out and kneeling along the road. My grandmother told me that such a custom exists.
I think I did not truly know Ukrainians even though my childhood and youth were in a way connected to Ukraine. I did not know what kind of people they were. One Ukrainian told me: "Why are you afraid? We go and die there. Why have your people left the country or gone into hiding? Why don't you go and die?" I didn't know how to answer him.
On Russian fascism
We are dealing with Russian fascism. If we compare with the 1930s and read what Hitler said about Poland and Czechoslovakia, everything is very similar, everything is terribly similar, and we know how contagious this is, how it can sweep the world.
We must not be afraid to say openly that we are facing fascism. And the question is, why is it coming back to us again? Why can't one resist it? These are the questions I try to find answers to in my book.
On the new book
They often tell me, "Svetlana, you need to write a book." I must write this book. But this book shouldn't be about our suffering only. This book should be more profound: about human nature, about human imperfections, about us somehow being too small for the word "freedom", too unprepared for the word "freedom", because we have never been free and have never had such an experience in our lives. The only experience we have is shooting each other.