State newspaper portrays Catholic priests with swastika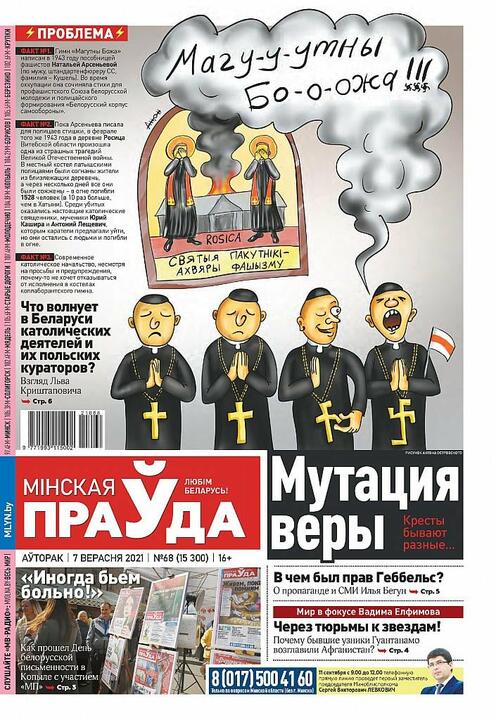 On 7 September 2021, a state newspaper Minskaya Prauda published a cartoon lampooning Catholic priests on its front page. One of the priests is shown holding a white-red-white flag in his hands and singing the hymn "Mahutny Bozha" while wearing a Nazi swastika instead of a Christian cross. In the article, the hymn is described as collaborationist. The priests are depicted against the background of a distorted replica of the icon of the Martyrs of Rositsa, the priests who courageously faced death together with their parishioners at the hands of Nazis during World War II.
Belarusian Catholic episcopate considers the publication in Minskaya Prauda as "inciting enmity towards the Roman Catholic Church within Belarusian society". "This publication deeply offends the religious feelings of Catholic believers. The cartoon with a cross turning into a swastika and a swastika shown instead of a cross offends not only priests but, first and foremost, desecrates the Cross of Christ the Savior, who sacrificed his life to save the people. According to the Catholic bishops of Belarus, this publication causes moral damage to all Christians of various confessions. The publication also indirectly accuses the entire Catholic clergy of alleged adherence to fascism and Nazism, which is a deliberate and malicious distortion of the truth, slander, and insult," bishop Aliaksandr Yasheuski, the chair of the Commission on Catholic Education and Catechesis, expressed the official position of the Belarusian Catholic Episcopate.
The bishops of the Roman Catholic Church in Belarus hope that the state authorities would provide a proper legal assessment of this caricature and publication.
"Khrystsiyanskaya Viziya" ("Christian Vision") group called on the Vatican to pay attention to the authorities' incitement of hostility against the Roman Catholic Church in Belarus and "to adequately respond to such incidents to defend the interfaith world, the Roman Catholic community, and rights and freedoms of believers".
After the start of the peaceful protests in August 2020, several Catholic priests, including the former head of the Catholic Church in Belarus Archbishop Tadeusz Kondrusiewicz, Father Viachaslau Barok, and a number of other priests, condemned the state violence against citizens and called for an end to the repressions. Kondrusiewicz was not allowed to return to Belarus for some time, while Barok was forced to leave the country because of the arrest threats.
Authorities have also persecuted a few Orthodox priests who opposed the violence. For instance, today, the home of Dionisy Korostelev, a priest at the Minsk Church of the Icon of the Mother of God "Joy of All Who Sorrow", was searched.
Protestant Church is also under pressure. Belarusian security forces took away the "New Life" Church building that belonged to a Protestant community and was funded by donations from its parishioners. Following the 2020 elections, the pastor of the "New Life" Church Viachaslau Hancharenka condemned the security forces' violence on Belarusian streets and called on the authorities to repent.