"We understand everything, your cousin died, but you have to serve time"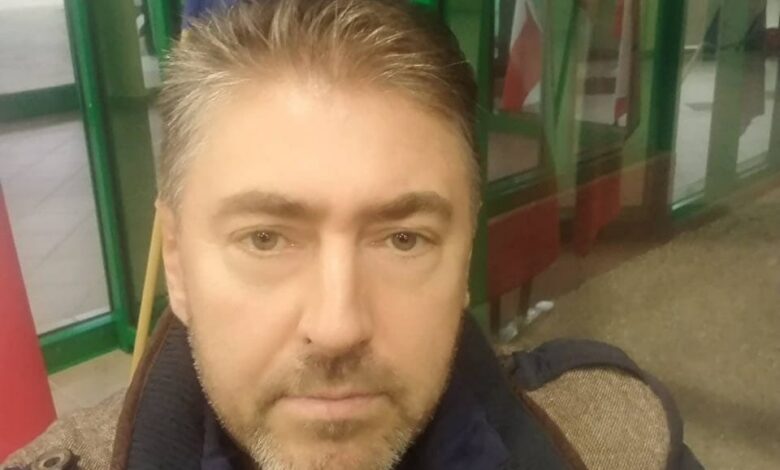 Relatives of volunteers fighting in the Ukrainian Armed Forces are systematically detained in Belarus. Siarhei Bandarenka ended up in a hospital after being beaten up during interrogation. He managed to flee Belarus.
Siarhei Bandarenka, a cousin of Vasil "Syabro" Parfiankou, who died fighting for Ukraine, spoke about how Lukashenko's regime persecutes relatives of Belarusian volunteers in a Belsat interview.
Vasil "Syabro" Parfiankou was killed in action near Lysychansk on June 26. The battalion commander, call sign "Volat", and at least two more fighters were lost in the battle as well. After the news of Vasil's death had surfaced, security forces detained Siarhei for the first time: he was sentenced to 15 days of detention. Vasil's sister and mother were also detained while he was still alive. They spent 10 days in custody, and Vasil's mother was forced to record a video condemning his actions. According to Siarhei Bandarenka, security forces officers came to other relatives of the Kalinouski Battalion soldiers, not only to Parfiankou's close ones.
On July 4, Siarhei Bandarenka learned that Vasil Parfiankou most likely had died, but there was still a chance that he could have been captured as a POW. Two days later, Vasil's death was confirmed. Siarhei learned this from a Belarusian activist who knows the soldiers. Siarhei and the activist decided to stop by the latter's home so that Siarhei could ask about Vasil's fate in more detail. However, security forces detained Siarhei next to the activist's apartment and took him to a police station. Siarhei says that they looked through his phone but didn't threaten him with a criminal case:
I was under the impression that they wanted all this to end as soon as possible, that they wanted the Kalinouski Battalion to come and liberate Belarus. I saw compassion in their eyes. They told me verbatim: we understand everything, your cousin died, but you have to serve time.
Siarhei was convicted for "petty hooliganism" and received 15 days of detention, which he spent in inhumane conditions: no blankets, pillows, or mattresses were provided, and he had to sleep either on the floor or on metal bunk beds.
Later Bandarenka was detained for the second time, and his apartment was searched. In the office of the Main Directorate for Combating Organized Crime and Corruption, Siarhei was put into a face-to-the-floor position and wasn't allowed to look around. When he got a chance to look off to the sides, he noticed Russian flags on the walls. After the interrogation and beatings, the Main Directorate officers brought Siarhei to a "regular police station". On the way to the police station, they found out that Siarhei had shared posts about a movie on Vasil and that he had joined "extremist" channels. The officers proceeded to threaten him with a lengthy prison sentence.
Siarhei was told to strip at the police station, but he could hardly take his shirt off. The policemen noticed this, and one of them asked Siarhei if he had been severely beaten and called an ambulance. Siarhei was taken to the hospital in handcuffs, and a person with a gun accompanied him even in the bathroom.
Doctors understood what had happened. They asked me if I had been beaten. I was looking at this senior lieutenant from the corner of my eye to indicate to the doctors that I couldn't tell the truth. I kept saying that I had taken a fall.
Siarhei realized that he wouldn't survive one more detention. He was supposed to spend three days in the hospital, but the next morning he ran away to a friend and contacted the BYSOL Foundation. He was able to escape to Poland via Russia. He is now in a refugee camp and still does not know who helped him escape.