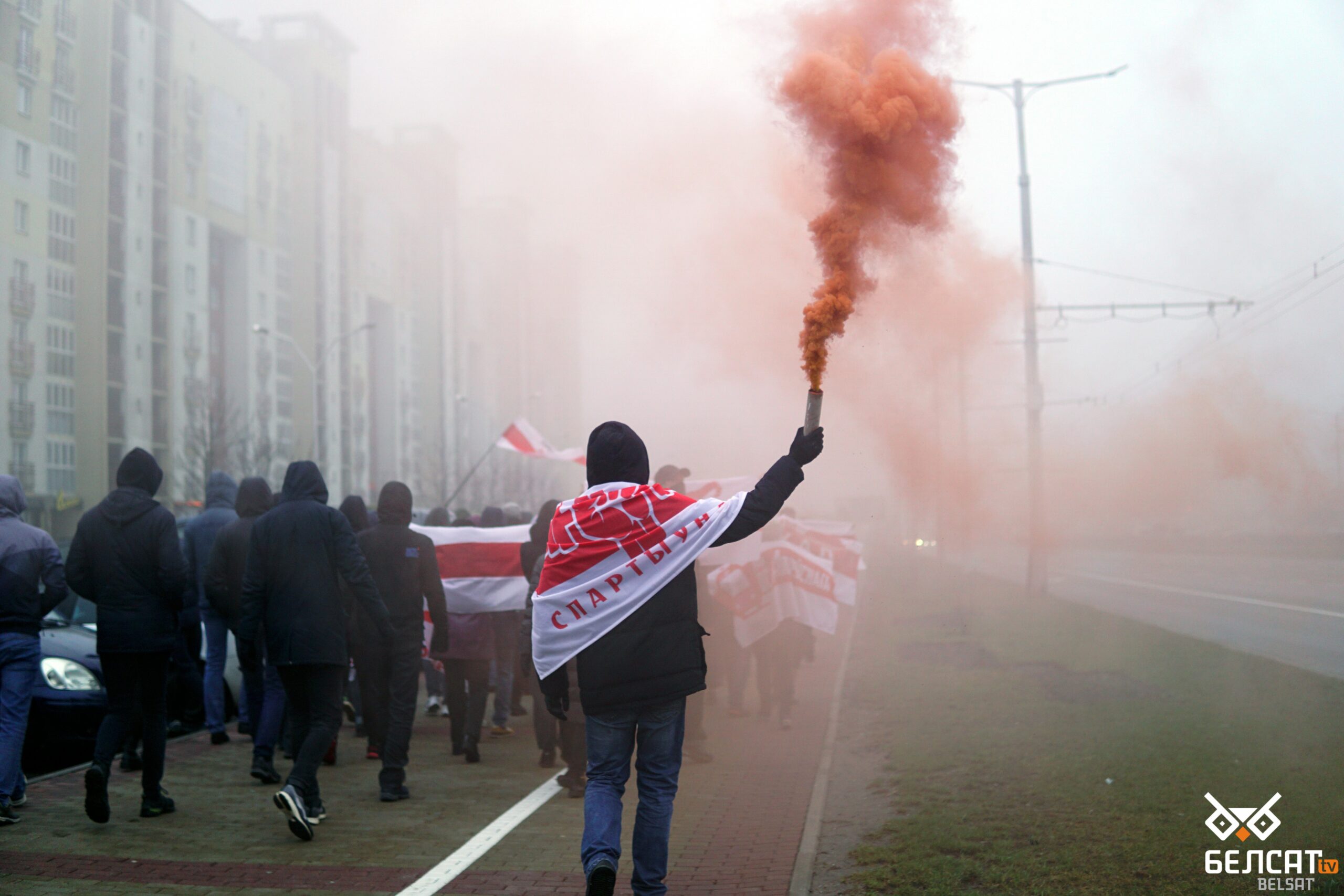 Despite the brutal repressions, Belarusians continued to fight Alexander Lukashenko's regime in 2021. Courtyard marches, flash mobs, protest graffiti and leaflets, destruction of surveillance cameras, blocking of railways, and large-scale cyberattacks – the resistance did not stop for a single day. Belsat has put together an overview of the protest activities for the past year, which we present in condensed form.
Courtyard marches
In early 2021, Belarusians continued to actively participate in Sunday courtyard marches as well as chains of solidarity in different districts of Minsk. In addition to the marches, themed campaigns were also held on Sundays, for instance, against the plans to denounce the white-red-white flag as an extremist symbol. The authorities responded to local protests with increased repressions. Regular raids began and individual risks for the street protests participants increased significantly, while at the same time the hope for a quick revival of mass protests faded.
Attempts by the opposition to organize a centralized rally on Freedom Day, 25 March, turned out to be a failure: security services drew large forces to Minsk, detaining over 200 people and preventing people from gathering together (nevertheless, the Belarusian diaspora abroad held massive solidarity rallies on this day – note by Voice of Belarus.)
All this led to a significant decrease in the activities of courtyard communities, and at the same time to an increase in conspiracy measures. In the second half of the year, courtyard marches became rare. Usually the protests were announced after the fact, yet on several occasions security forces managed to detain protesters during the rallies.
However, security services were never able to completely stifle the courtyard protest movement. In late December, it was announced that a number of communities founded the Protest Courtyards Coalition, a platform designed to coordinate protest actions at the grassroots level.
Solidarity campaigns and flash mobs
The increased secrecy of the protesters and decrease in the number of active protesters have created a new trend: solidarity campaigns limited to taking pictures with protest posters and white-red-white flags where people's faces are not visible. Although taking such photos is also a risky venture, they appear online almost every day.
However, the protests in more traditional format did not stop either. For instance, Belarusian women continued taking walks with white-red-white umbrellas all year long. This beautiful flash mob became one of the most prominent protest symbols. The last umbrella walk took place in November.
Belarusian activists also held a number of single pickets. Mostly they hid their faces, but there were some fearless people who openly protested in the face of state terror. For example, on 13 May, Adam Bialiatski, son of human rights defender Ales Bialiatski, came out on a picket with a placard in support of journalists Katsiaryna Andreyeva and Darya Chultsova who are held behind bars. Legendary activist Nina Bahinskaya repeatedly held single pickets with a white-red-white flag.
Leaflets, graffiti, flags
Belarusians expressed their protest in a variety of ways. Throughout the year, supporters of changes have repeatedly displayed white-red-white flags on buildings. People left protest inscriptions on houses and fences, printed and distributed leaflets and stickers, painted bus stops and even hay bales in the national colors. Many Belarusians were punished extremely harshly for these harmless manifestations of dissent: they were prosecuted and sentenced to terms in an open prison or in a penal colony.
Cyberattacks
This year, the opposition-friendly hacker group Cyber Partisans carried out the largest hacker attack in the history of Belarus known as operation "Inferno". As a part of the operation, the information system of the traffic police, police databases, the Internal Security Directorate and the Main Personnel Directorate of the Interior Ministry were hacked. The operation of hundreds of speed cameras and surveillance cameras across Belarus was paralyzed, and the databases of the Ministry of Internal Affairs were compromised. The hackers got hold of the telephone conversations of the authorities. Now Cyber Partisans regularly publish incriminating materials about law enforcement officers on the Web and publicly reveal government-use and classified information
Sabotage activities
At a time when absolutely any expression of dissent is severely punished, including criminal prosecution, the disappointment of some Belarusians in the effectiveness of exclusively peaceful protests is growing.
In 2021, the anonymous group Busly Liatsiats regularly assumed responsibility for resistance actions in the form of small-scale sabotage. For example, the guerrillas claimed to have destroyed dozens of surveillance cameras, damaged vehicles and property of law enforcers, set fire to objects of infrastructure and blocked railways. Representatives of the group emphasize that they act solely in the vein of non-violent resistance, that is, they organize their actions to avoid casualties.
So far, not a single person has suffered from the activities by the regime-opposing guerrillas. The cases when security forces claimed to have prevented terrorist attacks or assassination attempts and blamed the opposition for these actions have clear signs of fabrication.
Categories: