1,000 days of unfreedom: Siarhei Tsikhanouski is on trial again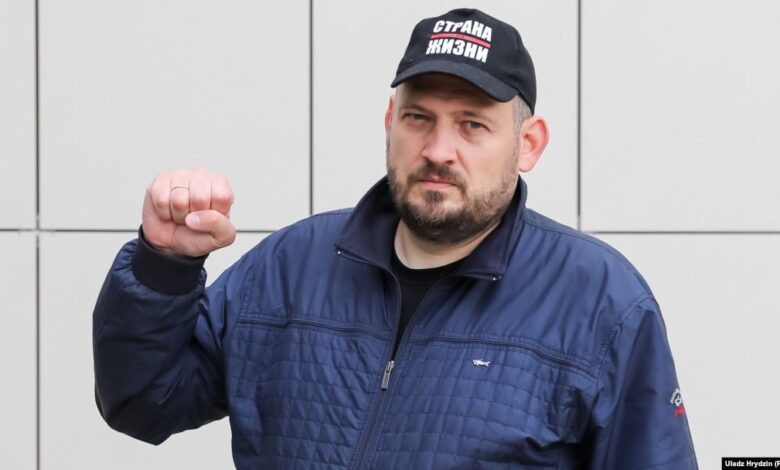 Siarhei Tsikhanouski played a key role in the run-up to the 2020 protests in Belarus and was the first to become a political prisoner specifically as a result of these events. He has been kept behind bars on trumped-up charges for 1,000 days. Tsikhanouski's new trial started on February 14, reports Deutsche Welle. Already sentenced to 18 years of imprisonment, he faces two more years in prison.
From YouTube to politics
Siarhei Tsikhanouski's appearance on the Belarusian political scene in 2020 came as a surprise to many. Before that, he had been known as the creator of the Country to Live in Youtube channel. Tsikhanouski and his small team traveled around Belarus and shot videos in which he talked about issues faced by local residents: they sincerely shared their thoughts and views on camera. In less than a year, he became the most popular blogger in the Belarusian Youtube space, gathering politically active Belarusians around himself. In May 2020, Tsikhanouski posted a video announcing his intention to run in the presidential election.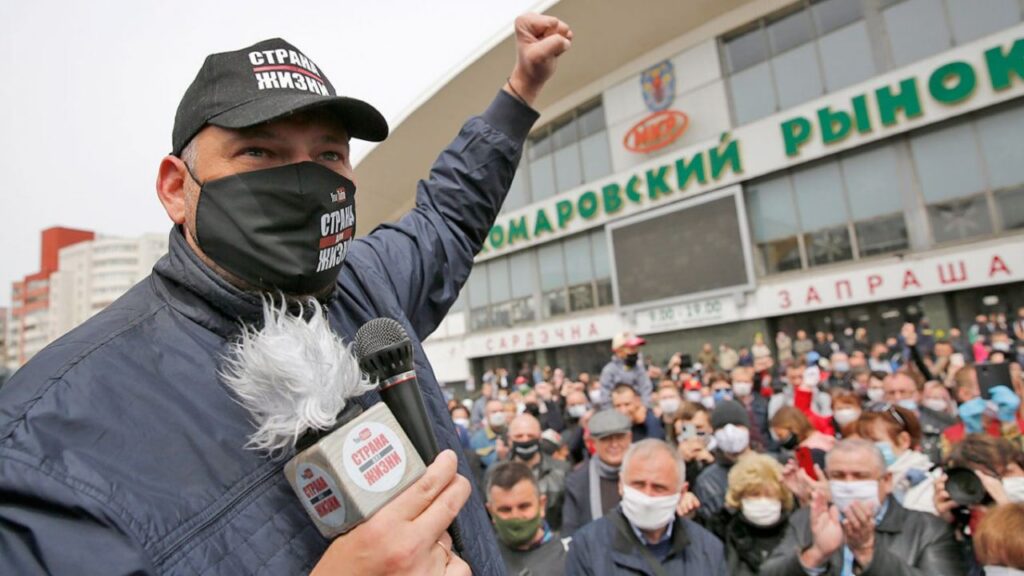 A fateful switch-over
Belarusian authorities monitored Siarhei's activities, and he was detained, allegedly for organizing an unauthorized mass event, just before the start of the presidential election campaign. As a result, his wife Sviatlana Tsikhanouskaya registered to run for president in his stead. After his 15-day administrative detention had ended, Siarhei Tsikhanouski became an authorized representative of Sviatlana Tsikhanouskaya and actively participated in the election campaign to collect signatures in her support. A record-breaking number of people showing up to leave their signatures for Tsikhanouskaya all over Belarus further alarmed those in power.
Re-arrest and meeting with Lukashenko
On May 29, 2020, Siarhei Tsikhanouski was again detained at a signature collection event in Hrodna after a staged scuffle with a policeman. Police officers allegedly found a large sum of money during a search at his dacha. Pavel Sapelka, a Viasna Human Rights Center lawyer, believes that the arrest of Tsikhanouski and his team in Hrodna marked the start of the authorities' mass repression against Belarusians. After the August 2020 presidential election, which, according to the independent counts, Sviatlana Tsikhanouskaya won, the organization of protest rallies was added to the list of Tsikhanouski's charges. In October 2020, against the backdrop of unceasing protests, Alexander Lukashenko decided to meet with the detained oppositionists right in the KGB detention center. At the meeting, Siarhei Tsikhanouski addressed Lukashenko on a first-name basis, asked critical questions, and expressed his indignation at the rights violations. When Lukashenko told him "to not interrupt the president", Tsikhanouski retorted that this wouldn't faze him since his wife is the president.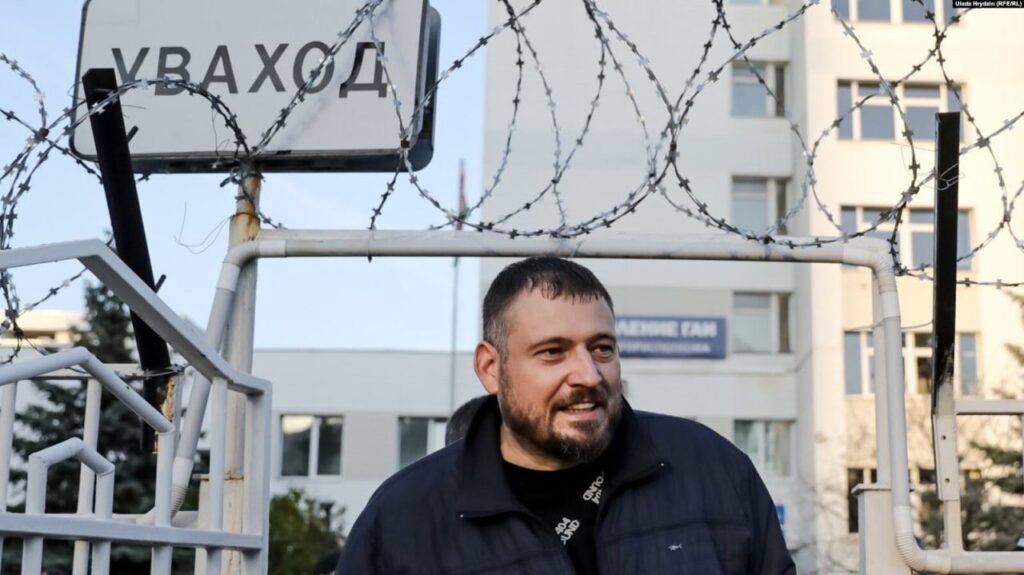 Pressure in prison
In December 2021, Siarhei Tsikhanouski was convicted for, among other things, organizing mass riots and inciting social hatred and sentenced to 18 years in a maximum security penal colony. Tsikhanouski's example serves to showcase all the methods of exerting pressure security services use to break an unwanted prisoner. He is subjected to maximum isolation in custody. He now faces an additional two years of imprisonment for "disobedience to the prison administration".
"Siarhei will not stop being a charismatic and intelligent leader, no matter how many more years he gets sentenced to over the trumped-up charges," Sviatlana Tsikhanouskaya commented on this news. The opposition leader in exile, she relentlessly talks about the fate of Siarhei and thousands of political prisoners in the international arena.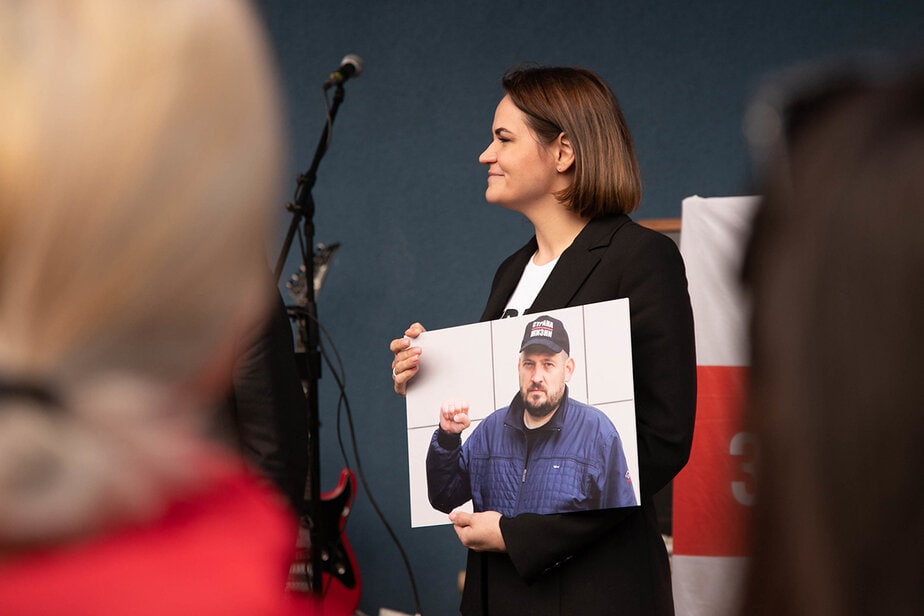 Over the course of two years, the "Tsikhanouski case" has grown into dozens of politically motivated criminal cases. Belarusian authorities use it to persecute Tsikhanouski's associates and dissidents; dozens of people have been convicted. The Zerkalo web portal learned that Siarhei Tsikhanouski's Minsk apartment was to be auctioned off. The authorities are trying to sell the apartment to compensate for the contrived damage from Tsikhanouski's actions. According to the verdict, Tsikhanouski and other defendants are to pay about €8.5 million in fines.
"The regime has stooped to looting and banditry. Siarhei, myself, and our children spent many good and joyful days in this apartment. No matter how hard these people try to deprive us of our family, love, and memories, they will fail – every moment of happiness remains with us," said Sviatlana Tsikhanouskaya.