Press Club Belarus staff released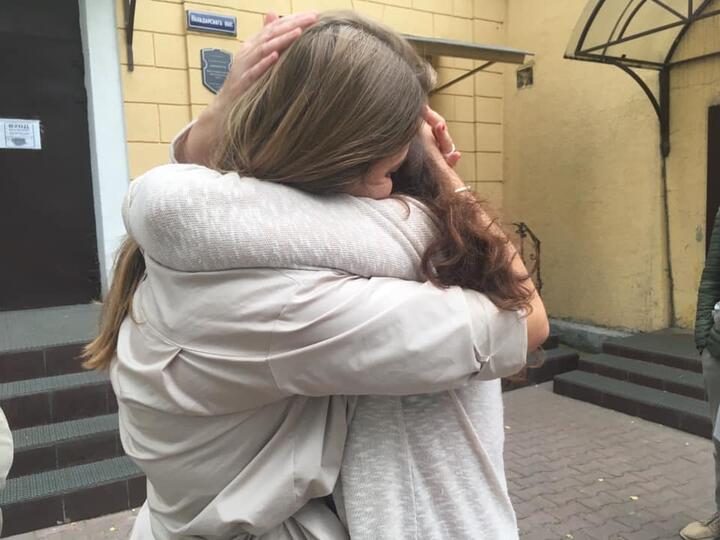 After almost eight months of imprisonment, members of Press Club Belarus have been released.
In late December 2020, during the wave of repressions against independent media and NGOs, the founder of the Press Club Yuliya Slutskaya, its financial director Siarhei Alsheuski, program director Ala Sharko and videographer Piotr Slutski (Yuliya Slutskaya's son) were detained along with two former employees of Belteleradiocompany – Kseniya Lutskina and Dzianis Sakalouski. The detainees were recognized as political prisoners.
Yuliya Slutskaya was detained right at the airport as she was returning from vacation. Her interrogation lasted almost 36 hours, with no access to a lawyer. During this time, Yuliya was allowed to sleep only for an hour with the lights on, while sitting at the table. Soon, her son Piotr was detained. "I realized that Piotr had been simply taken hostage, because he is a videographer and sound engineer, and he had nothing to do with the financial affairs. He was sitting in one of the worst cells in the basement, where it is always damp, where 25 men share 30 square meters sleeping on triple bunk beds," said Yuliya.
Press Club employees were charged with large-scale tax evasion and complicity in a crime (Part 2 of Article 243 of the Criminal Code). The detainees' relatives transferred about $43,600 USD to the account of the Investigative Committee to cover the allegedly unpaid taxes.
Two more defendants in the Press Club case remain behind bars: a member of the Coordination Council of the Belarusian opposition and ex-journalist of the state-run Belteleradiocompany Kseniya Lutskina and Dzianis Sakalouski, a former cameraman on Belarusian state TV. After resigning from her position as a correspondent for Belarus 2 TV channel, Lutskina was engaged in the creation of an independent television channel.
Press Club Belarus was active in various research activities, organizing and running educational lectures and seminars for journalists. In July 2021, Press Club, along with several dozen other non-governmental organizations, was liquidated according to the decision of the Minsk City Executive Committee.