Anniversary of stolen election in Belarus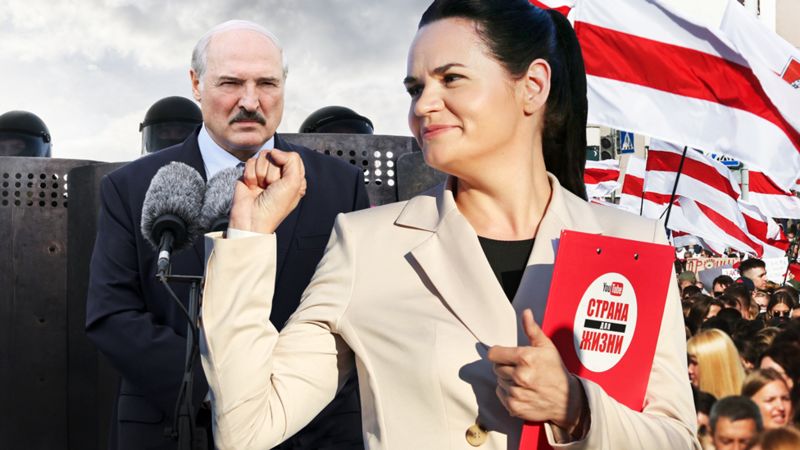 Exactly one year has passed since the last presidential election in Belarus. The presidential campaign took place in a context where opposition sentiments were stronger than at any other time in the country's history. In response to the rigged election that left Lukashenko in power, peaceful protests erupted across the country. While dispersing protests and detaining their participants, security forces used excessive force; thousands of people were detained. Opposition leaders were arrested or expelled from the country.
The international community, the EU, the US and Canada do not recognize the election results, but instead support peaceful Belarusians and call on the Lukashenko regime to hold new elections.
Today the leader of the Belarusian opposition Sviatlana Tsikhanouskaya addressed the Belarusians of Vilnius: "A year ago Belarus made a choice. But we did not choose to be driven out of the country, to be losing fellow citizens, to be writing letters to our relatives and friends in prison. On 9 August 2020, we have realized that the future of our country is in our hands. <…> For all these months every day we, Belarusians, have made the choice to go forward despite fatigue and doubt. <…> It is a choice to keep fighting until victory is attained, to regain our pride and our voice."
US President Joe Biden issued a statement on the occasion of the anniversary of the presidential election in the Republic of Belarus. "Rather than respect the clear will of the Belarusian people, the Lukashenko regime perpetrated election fraud, followed by a brutal campaign of repression to stifle dissent. From detaining thousands of peaceful protesters, to imprisoning more than 500 activists, civil society leaders, and journalists as political prisoners, to forcing the diversion of an international flight in an affront to global norms, the actions of the Lukashenko regime are an illegitimate effort to hold on to power at any price," President Biden emphasized.
The US Ambassador to Belarus Julie Fisher issued a statement regarding the anniversary of the rigged presidential election and the start of mass protests. According to the Ambassador, the events of 9 August 2020 represent a turning point for Belarus. That day, a record number of Belarusians turned out to make a choice for a new Belarus with new leadership. At the same time, the whole world stands witness to the injustices and victims caused by the Lukashenko regime. Fisher stressed that the US, together with the EU, the UK and Canada, stand in support of the fundamental freedoms for the citizens of Belarus.
Former presidential contenders Viktar Babaryka and Siarhei Tsikhanouski, who have been behind bars for more than a year, put out short messages on the occasion of the anniversary of the 2020 presidential election.
Siarhei Tsikhanouski writes: "Belarusians have found solidarity and for the first time felt as a nation, and have seen huge support from abroad. In fact, this is a planet-wide advertising campaign for Belarus. After the victory of democracy, which is inevitable, we will be able to use this world fame for the dynamic development of our state. I say it as a publicity expert with a 15-year experience. Go for victory!"
Viktar Babaryka conveyed a message from the Navapolatsk penal colony, which he was transferred to after he had been sentenced to 14 years in prison. "I never wanted to stay and live in Belarus more than I want to now," says the political prisoner. "And although I haven't seen the country since 18 June last year [the day he was detained by the security forces], I understand: the image of the future Belarus that I have in my mind is shared by so many people."