Solo picket of Belarusian in Washington can be heard as far as White House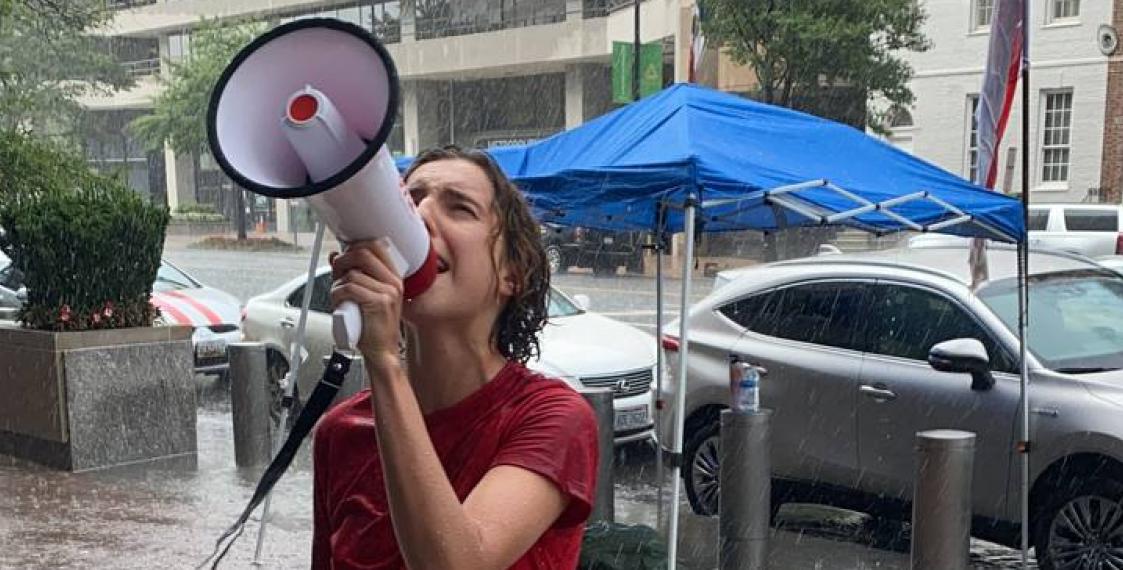 On 20 August, Belarusian Masha Zabara went to a solo picket near the building of the IMF and Treasury in Washington DC. She opposed the decision of the International Monetary Fund to allocate more than $900 million USD to Belarus, despite the fact that Lukashenko continues to hold power in the country. Belsat journalists talked to Masha about the picket near the IMF and the reaction of Belarusians in the USA.
Masha stood outside the IMF office all day from morning till evening. She wanted to be heard by Janet Yellen, the US Treasury Secretary. It turned out that Janet Yellen was on vacation, but nevertheless, the Belarusian continued with the protest in hopes of reaching the officials. "She canceled a grant to Afghanistan. That is, if they really want to, they can decide anything, so there are no excuses," Zabara emphasized.
Masha was amazed by the support she got from the Belarusians in Washington DC after she had written to their group. They immediately offered her help: a tent, food, flags, and posters. They even obtained a permit to protest, although it is not needed for a rally of up to 25 people.
"In the end, they met me in the evening, people came with posters, with art projects, and even ordered me a megaphone. And it really helped: if I just stood there without it, no one would pay attention, but with a megaphone they heard me all the way to the White House."
Masha launched a #NoGrantForDictator flash mob and, together with new acquaintances from Washington DC, she intends to continue to put pressure on politicians through personal contacts that the diaspora has developed. "Belarusians abroad have no right to surrender," Masha says.
Masha's picket gave impetus to new protests of Belarusians abroad – the Belarusian diaspora organized rallies near the offices of the IMF and its representative offices around the world. Belarusians went out to protest in the USA, Japan, Poland, Lithuania, Belgium, Germany, Ukraine, Czech Republic, Italy, and other countries.
Masha Zabara lives in the USA and works for the Thrift to Fight charity project. Masha also runs her Instagram and YouTube channel, where she covers events in Belarus for English-speaking audiences.