10,000 teddy bears in support of Belarus sold out in less than 12 hours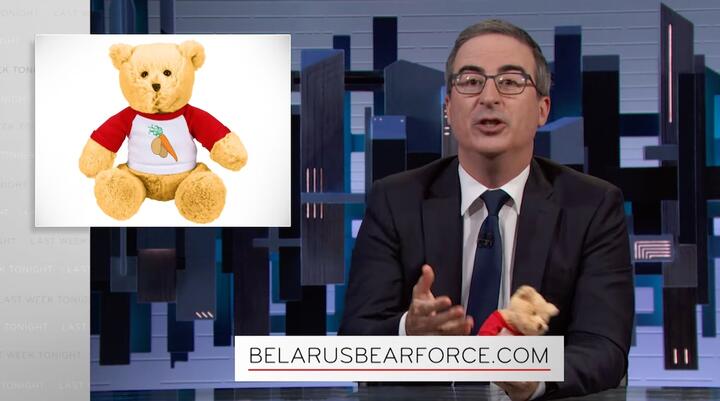 A recent episode of the popular American comedy show Last Week Tonight with John Oliver on the HBO channel was dedicated to the situation in Belarus. The host John Oliver spoke about Alexander Lukashenko's coming to power and the political crisis in Belarus. He talked about last year's presidential elections, mass protests, and homophobic and anti-Semitic statements made by Alexander Lukashenko. Among other things, the show mentioned the prison sentences handed down to Maria Kalesnikava and Maksim Znak, and told the story of Siarhei Tsikhanouski and Sviatlana Tsikhanouskaya.
The show specifically focused on two episodes with plush toys: teddy bears dropped by Swedish citizens from an airplane over one of Minsk districts in 2012 and Pavel Vinahradau's picket later that same year featuring plush toys with protest posters. "This is the cutest act of civil disobedience I have ever seen," said Oliver.
The TV show team released 10,000 special-themed teddy bears, encouraging the viewers to purchase them on belarusbearforce.com. All proceeds from their sale would be donated to organizations fighting for freedom of the press and human rights in Belarus.
The toys sold out in less than 12 hours. It is still possible to join the initiative by donating through GlobalGiving.