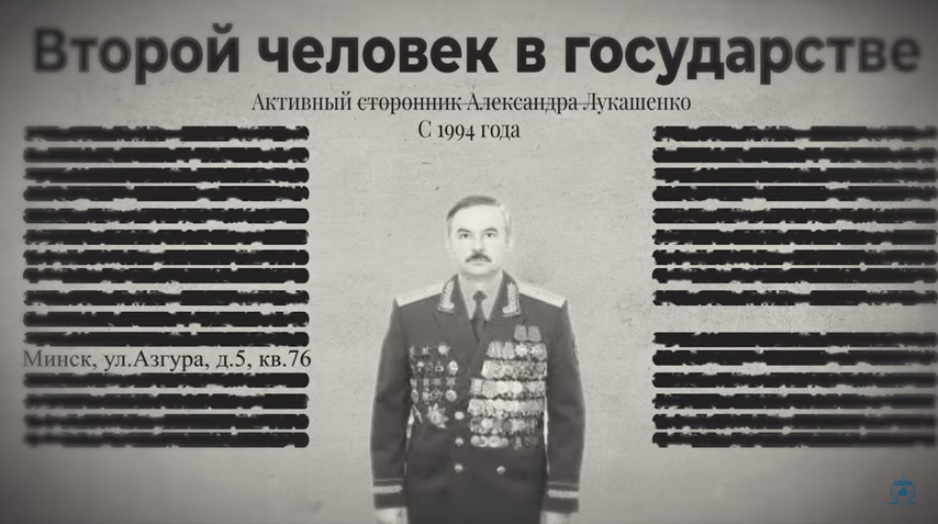 Former Head of the Administration of the President of Belarus Viktar Sheiman. Screenshot from the BYPOL video.
BYPOL has published findings from a new investigation on a secret military organization created by Sheiman to promote Lukashenko's interests.
According to BYPOL, Viktar Sheiman allegedly runs a security institution that trains fighters for the special forces of the African dictatorial regimes to guard mining sites. Among other things, Lukashenko profits from the exploitation of mineral resources in Africa. The company is also involved in the arms trade.
For a long time, Viktar Sheiman was considered one of the most influential people in Belarus. Sheiman was Lukashenko's closest ally from the very beginning of the latter's presidential career, remaining in this role until 11 June 2021 when his resignation was announced.
Sheiman has held various leadership positions in the government: from the Prosecutor General to the Assistant to the President for Special Commissions. For many years he was running the Presidential Administration.
On the eve of last year's presidential elections, Alexander Lukashenko spoke publicly about how Sheiman had fought crime in the mid-1990s. According to him, Sheiman was personally driving around armed with a pistol and shooting bandits back then. Viktar Sheiman resigned allegedly due to poor health. Yet, while accepting his resignation, Lukashenko asked him to continue overseeing projects in Africa and South America. Today it was announced that Belarus would open its embassy in the Republic of Zimbabwe. Zimbabwe has been an important area of Belarusian interests in Africa for the past few years. For instance, in 2018, Viktar Sheiman visited Zimbabwe at least twice, reporting to Lukashenko that Belarus and Zimbabwe had entered into an "active cooperation" in the fields of mining, agriculture, construction, transport, logistics, and energy.