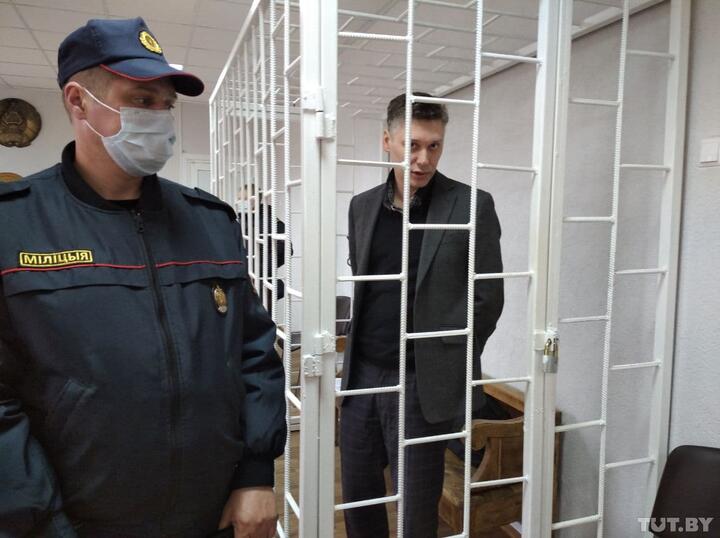 Uladzimir Dudarau.
Russian citizen Irina Vikholm was sentenced to 1.5 years in a penal colony for slandering Lukashenko. Vikholm has lived in Brest for about 10 years and has been blogging on several websites. She was detained in May 2021, yet this fact became publicly known only in September. Criminal charges against Irina are based on her Twitter posts. Vikholm shared an article on the Ryanair incident by the BBC News Russian, adding a headline only: "Another Crime of Lukashenko: An Act of State Air Piracy".
Uladzimir Dudarau, a political prisoner and ex-deputy chair of the Mahiliou City Executive Committee, was sentenced to 7.5 years in a high security penal colony for an alleged fraud and abuse of power. Yet, the real reason was his membership in Viktar Babaryka's team.
Mykhailo Ferents, a 33-year-old Ukrainian citizen and political prisoner, was sentenced to 3 years in prison. He was accused of participating in protest marches last year, as well as being an administrator of the Telegram channel "Smelye lyudi" ("Brave people"). Mykhailo, a native of Donetsk, has lived in Belarus for nine years. After being detained for seven months, he was held in custody as a foreigner awaiting deportation at the Akrestsina detention center. In his concluding speech at the trial, the political prisoner spoke about the inhumane detention conditions during these months. However, instead of being sent back to his homeland, he was charged and transferred to a pre-trial detention center. At the same time, the seven-month detention at Akrestsina Street was not deducted from his prison time. During the trial, the political prisoner did not plead guilty and refused to testify.
Political prisoner Tsimur Hazizau, an activist of the "Honest People" initiative, was sentenced to 2 years of open prison for taking part in a mass event and blocking a road on 4 October 2020. He was detained on 16 June 2021 during the performance of "White Rabbit, Red Rabbit".