Torture and abuse in 2020 – story of Ihar K.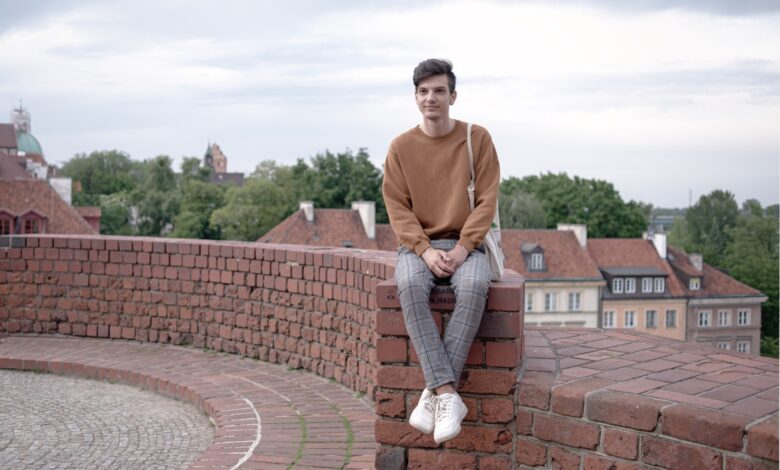 22 years old, election observer. "The riot police officer threw me back and said, "It's no fun to beat him, he doesn't scream"
Ihar is only 22, and he has already come up with several ideas for the development of Belarus. So far, none of them can be realized, but he hasn't given up hope. And for his children to be able to live in the Belarus of which millions dream, it was important to count votes in the elections honestly. So, the young man decided to become an election observer. Five days of fear, humiliation, and violence – that was the thanks he received from the state. The memories still torment him to this day: "The most terrible moment at Akrestsina was when the policewoman undressed women and beat them. She yelled at them that no one would come to help. And you really can't do anything while you're suffocating in a prison cell."
"I wanted to slit my wrists to be taken away in an ambulance. Anything to avoid being there"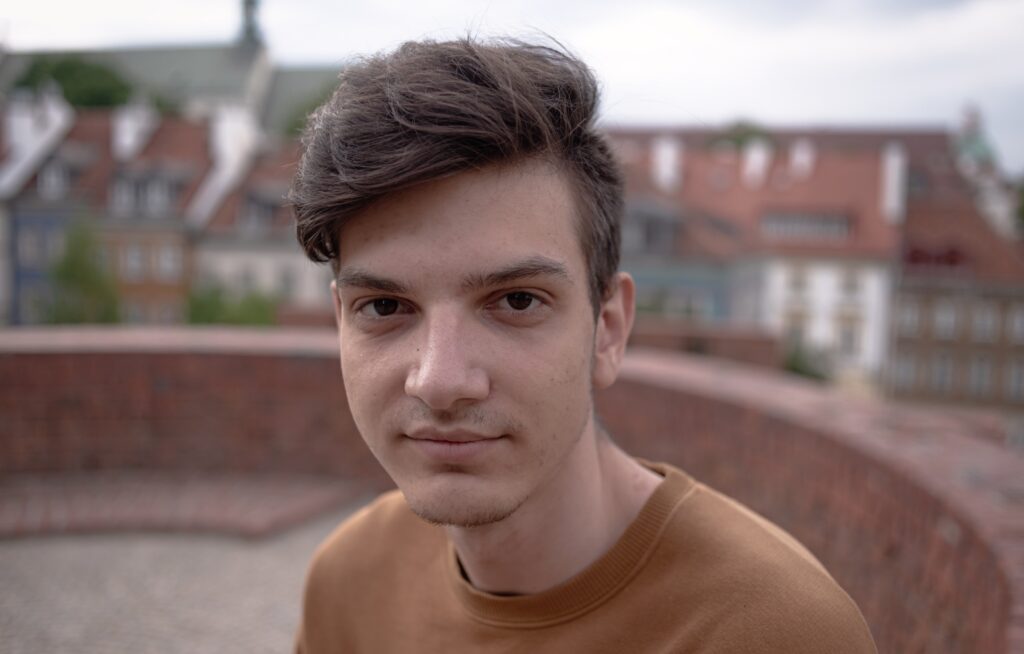 – I was an observer in the Maskouski district of Minsk. On August 9, when we were waiting for the report with the voting results, riot police officers arrived at the polling station. People were pushed behind the school building, and then detentions started. They took me, another observer, and a man from the crowd into a bus. The insults poured in. They called us "bastards", "scum", "Tsikhanouskaya's c*nts", and "paid Polish assholes". One of the riot police officers tried to strangle me, but he wasn't tall enough and couldn't reach me.
Later, they put us all in a prisoner transporter [also known as an "avtozak"]. There we received our first blows with truncheons and fists. After we drove around the city and added to the "collection" of protesters, they took us to the Akrestsina detention center. There was a corridor of riot police at the avtozak exit. We were running between them, getting hit with truncheons on the back, chest, and legs. We handed in our belongings, but nobody searched us. They allowed me to take out my earrings but I saw a policeman ripping earrings out of another guy's ears.
The situation in the prison cell was unbearable. The lights were always on, and at night they switched on another lamp. Not only were you hungry and had no mattress or personal hygiene products, but there were 23 people in a space for five. We were in prison cell #18 on the second floor.
"I was allowed to take out my earrings myself, but I saw a policeman ripping earrings out of another guy's ears"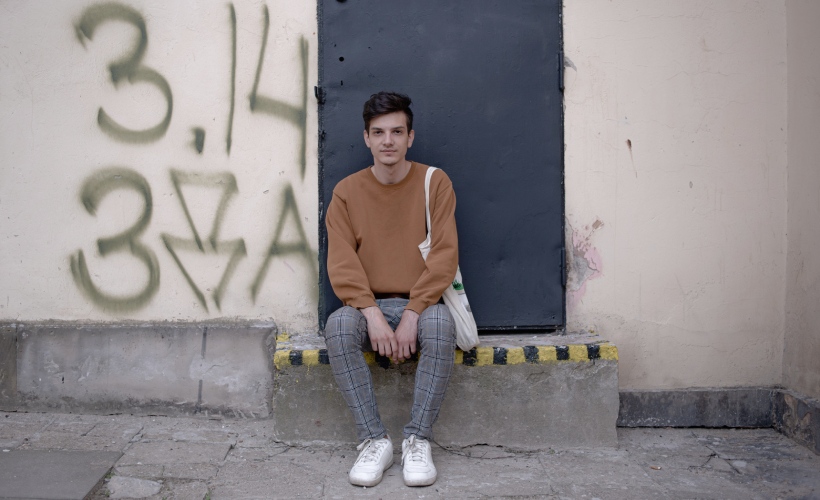 – The next day they decided to cram inmates from two prison cells into one and move them to more humiliating conditions – a three-bed prison cell. There were 46 people in a room of 15 square meters. We spent five hours in there. We had to take off our clothes because they were wet, there was nothing to breathe in, and condensation dripped off the walls all the time. One guy got sick and was taken out of the prison cell, but through the food hatch, we saw that he was just handcuffed to the radiator and got no help.
We told one another stories of our detentions while sitting there. One man went outside for a smoke, and he was met by people running toward him who wanted to hide in the apartment's complex entryway. That's how he was detained. Before this, the guy was not interested in politics and did not care about what was happening in the country, but the first thing he promised to do after being released was to go to a [protest] rally. Another one was completely covered in bruises. It was frightening that after a couple of days, they were not turning yellow as expected but black. The only time the man complained of feeling unwell was when a nurse came to the prison cell. He had broken ribs, she said, but "it's no big deal – you are alive and can stand". We tried to behave more discreetly at the time, but you could see in everyone's eyes that what was happening was shock and horror.
Out of 23 people, only three signed the police report. They were distressed and believed they would be released. Later we met them in the prisoner transporter to Zhodzina
– As an election observer, I realized that I could be detained. It had already happened to me in July and June. But I had no idea I would be beaten and subjected to such psychological pressure. After five hours in a three-person prison cell, we were separated and returned to the previous one. KGB officers kept coming in there. They videotaped us and asked where we worked.
On August 10, they came and offered us police reports to sign, which said that we were by the Stela [a monument in Minsk] and participated in an event grossly violating public order. They promised that those who signed would go straight home. I didn't know what was going on at the Stela as we were detained at the school. What if someone was killed there, and they would try to pin the case on me? Out of 23 people, only three signed. They were distressed and believed they would be released. Later we met them in the prisoner transporter to Zhodzina.
The trial took place on August 11. It didn't matter whether you signed the police report: everyone was sentenced to detention. I requested a lawyer but received no response. There was a stack of police reports with names on them on the judge's desk. The judge would look for your form in the stack and the verdict would already be written on it. They only pretended to listen to us. I filed an appeal asking to be fined the maximum amount possible instead of a custodial sentence. The court didn't even deign to say that the appeal was denied.
We slept in a sitting position on the floor and on benches in the cells. It's hard to call it sleeping. The screams were heard non-stop. There was screaming in prison cells when people were beaten, in the corridors when they were admitted, and outside. Through the door hatch, we saw people being stripped naked and detainees lying on the ground, beaten with truncheons. Some policemen's eyes caught my attention: their pupils were dilated and they behaved so wildly as if they had been trained as fighting dogs and finally were let off the chain. I think they were probably under the influence of some kind of drugs. But at the same time, they believed what they were saying.
"We just held back from laughing"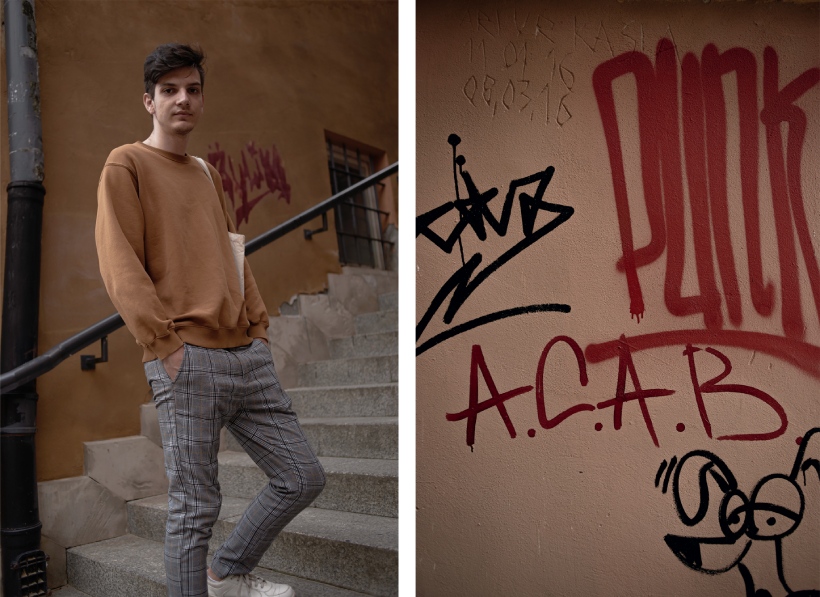 – On August 12 we were fed for the first time. The number of people that day went down by 50%.  We had already thought that we would stay to serve our sentences in Akrestsina, but on August 13 we were all herded into the yard and put into avtozaks. The first group went quietly. The second, which included me and my fellow inmates, heard the screams of those who entered the avtozak a second before. We ran, with our heads down. The riot police officers were shouting and trying to trip us up. As soon as I got into the avtozak, a law enforcement officer turned me over and hit me about 20 times in the right thigh and buttock area with his truncheon. Then he threw me and said: "It's no fun to beat him, he doesn't scream." He proceeded to another boy, the youngest among us. He was an orphan, and having heard this, the riot police officer said that he would now beat some sense into him instead of his father.
In the avtozak on our way to Zhodzina, the law enforcement officers said amazingly stupid things. For example, he claimed that "Czechoslovakia was behind all the protests". We tried hard not to laugh because we knew that grins would be followed by blows. They also said that the rallies had died down and that only we fools were serving time. They mentioned Taraikouski, who was allegedly walking with an explosive device in his hands.
When they took us to the prison, the law enforcement officers told us that we'd be "warmly welcomed". On the stairs to the basement, there were 20–30 officers of the special riot police unit. I think that's where I got seriously injured because they rained blows on my legs, chest, head, and stomach. Some of us were jumping over the guys who were falling so as not to get even more hurt.
With a piece of splintered tile, we scratched relatives' phone numbers on three pieces of leather that were sewn into their jeans
We were fed in Zhodzina. The prison guards on duty were shocked at our sentences. I remember one saying that those serving a life sentence here were treated better. Sitting in the prison cells, we talked about what was happening at Akrestsina. The guys told us that some people had been gassed after riot police's attempts to suppress the "Let us out!" shouts by beating them up had failed. The detainees were unable to open their eyes for several hours. 
It was also there that I met guys who were brought here right on August 9. The court didn't have time to sentence them in three days and so they were released. With a piece of splintered tile, we scratched relatives' phone numbers on three pieces of leather that were sewn into their jeans. All 18 of us wrote the numbers down.
One man aroused everyone's suspicion. He was wearing neatly ironed trousers and was clean unlike the rest of us. He gave his wife's contact number when a guy came up to him and asked if anyone needed to be told where he was. The number ended up being wrong. He asked provocative questions: "What are you worried about? Have you been detained before? What were you detained for?" We figured it all out and didn't discuss anything.
My shirt was marked in blue by the police, which meant that I was an election observer. Those who were marked in red were particularly active protesters. When we came out, we found out that our relatives had brought parcels for us, but we didn't get anything.
Every time the prison cell door was opened, we feared that something would be done to us. I wanted to slit my wrists to be taken away in an ambulance. Anything to avoid being there.
– On August 14, they came to our prison cell and told us to pack our things and come out. We were collecting bread. They gave us 6-7 loaves every morning. We collected it just in case they stop feeding us, so at least we would have bread. When I recalled that we had this bread at our disposal, the prison officer said we wouldn't need it anymore. To be honest, at that moment I was scared – that was it, the end. We had seen the violence and assumed they didn't need witnesses. We were taken to some woman's room. She asked slyly: "Well, do you want to go home?" There I signed a paper saying that if I was ever seen at an illegal mass event again, it would be a criminal offense.
We had seen the violence and assumed they didn't need witnesses
– Volunteers met us at the prison gate, and a Red Cross volunteer gave me a mini-physical. She said that I needed to go to the Minsk City Emergency Hospital. I felt pain in my chest, but I didn't think it was anything serious. I was not released from the hospital. The doctors found a lung laceration, closed head injury, brain concussion, chest contusion, hematomas, abrasions, and contusions – all of which I had received as a gift from the state. I was released from the hospital a week later.
I filed a report with the Investigative Committee about police brutality. After a while, those who filed reports began to be detained, and I decided to leave the country. It happened at the end of September 2020. Being in Minsk, I was constantly worried, not even trusting my relatives. Whenever a van resembling an avtozak drove by, I panicked.
A case was opened against me, too. Initially under Article 23.34, then it turned into a case on the financing of protests and organization of mass riots. They would come to my mother's house and tell her funny things: "If your son turns up, try to keep him in. Call this number when he is here." Would a mother rat her son out? I was later accused of hiding from criminal prosecution.
The last letter from the investigating authorities came in May. And my mother has now moved to Warsaw to live with me. I am under international protection and cannot travel to Belarus or Russia. I miss my home, but I feel okay. Sometimes I regret that I left the country, but my friends say that now I have a chance to help somehow. If I had stayed at home, I would have been in prison.
"Let the heart of a Belarusian,
Who wants change, beat.
God will hear his prayers,
For his thoughts are as bright as day.
He has no fear of a terrible enemy,
For the enemy is on the dark side.
We have known since childhood,
That night is followed by day.
A flock of cranes
Will fly over Belarus.
They are the harbingers of free days,
Of beautiful bright days.
Beautiful birds can't be stopped by the enemy
Darkness can't stop them,
For in every white crane is
The soul of all those who are gone forever"
Ihar Krupski
P.S. Ihar filed a report with the Investigative Committee about police brutality. A case was opened: initially under Article 23.34, then it turned into a case on the financing of protests and organization of mass riots
Author: August2020 project team
Photo: August2020 project team